The European Foundation of Human Rights (EFHR) is an organization actively operating in Lithuania since 2010. It was established in response to the striking increase of the abuses of human and national minority rights in Lithuania observed after joining the European Union.
Archive for January, 2013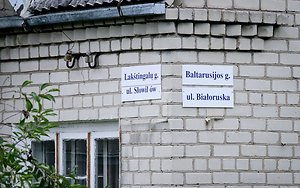 The Foundation has repeatedly informed about various steps (including legal) undertaken by different state institutions (especially the State Language Inspectorate) to remove the Polish street name plates common in the areas inhabited by the Polish national minority in Lithuania. On January 28 this year, another disadvantageous decision for the Poles had been undertaken by the local authorities. The representative of the Government for the Vilnius district demanded changes of the plates which do not conform with the law on the state language and the rules of naming, changing and registering...