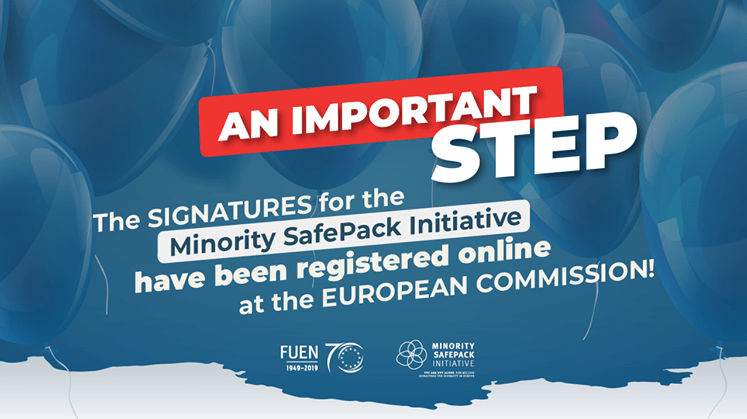 At the beginning of January 2020, Minority SafePack Initiative signatures have been registered online and forwarded to the European Commission.
Minority SafePack Initiative has been launched in early 2017 by the Federal Union of European Nationalities (FUEN). The initiative calls upon the EU to introduce legislation that would improve the protection and well-being of persons belonging to national and linguistic minorities. At the same time, it aims to strengthen the cultural and linguistic diversity of the EU. During a one-year campaign, the initiative has collected 1,128,385 signatures from its supporters, significantly surpassing the one million signature threshold required for European Citizens' Initiative projects. 18.990 of these votes were signed by Lithuanians.
The signatures have been now validated by the authorities of 28 EU Member States, which opens a road for the FUEN representatives to meet in person with EU Commissioners and Directors General. The next step is to present their plans and submit legislative proposals prepared by FUEN's team of experts. Henceforth, the European Commission will have six months to formulate its position and decide on the legislative process. During this period, a public debate involving all interested parties will be held at the European Parliament. Its results will have an influence on the final decision made by the European Commission.
The European Foundation of Human Rights (EFHR) has been involved in the process of collecting signatures for the initiative back in 2017-2018. We continue to support the Minority SafePack Initiative and keep our fingers crossed for the best outcomes of the deliberations taking place in Brussels and Strasbourg.