"Poles, Europeans, Citizens" textbooks now in pupils' hands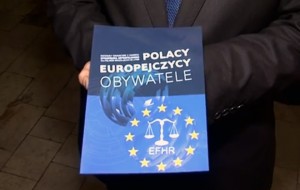 We are pleased to announce that through the efforts of the European Foundation of Human Rights (EFHR), pupils in forms 9-12 have just received the newest edition of the "Poles, Europeans, Citizens" textbook.
The aim of this textbook is to provide young Poles living in Lithuania with the necessary basic information on social and political processes currently at work in their environment, as well as on the problems and challenges faced in today's world. The book is a supplement to the innovative educational project "Europeans, Poles, Citizens".
The brand-new, updated edition of the textbook includes a broad range of subjects, in particular numerous references to the current situation in Lithuania. Among the thematic sections are chapters on social activity, self-government, authority, mass media, transformation, economy, international organizations and international conflicts. Other sections are devoted to social exclusion and diseases, problems in the contemporary world, nation and state, and human rights.
In delivering these textbooks to schools we sincerely believe that they will become valuable educational aids, and that they will improve knowledge about civil society among the young Poles in Lithuania.
Owing to the kindness and generosity of the PKO Bank Polski, the schools' headquarters and libraries also received sets of classic Polish films. They include works by Wajda (e.g., "Man of Marble", "The Promised Land"), and by Bareja (e.g., "Brunet Will Call", "A Jungle Book of Regulations"). At the request of EFHR, PKO Bank Polski, as the patron of the "Digital Reconstruction of Polish Films" project, funded 64 such box sets.
We hope that these films will inspire interest in Polish cinema among the pupils, that they will be properly used for educational purposes, and that they will enrich the collections of school libraries.
Along with the textbooks, the schools also received flyers about free audiobooks and e-books available at www.wolnelektury.pl. All the information on this website can be viewed, played, downloaded and shared free of charge.
EFHR
Translated by Natalia Kosecka within the framework of a traineeship programme of the European Foundation of Human Rights, www.efhr.eu.