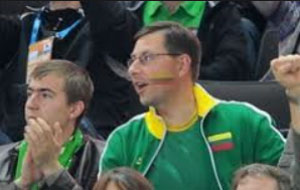 The Lithuanian Minister of Education and Science, Gintaras  Steponavičius, has been accused of accessing personal data and ethnic hostility. European Foundation of Human Rights (EFHR), a public institution, has lodged a petition to the General Prosecutor's Office in this case. According to the Foundation, Steponavičius has violated the Lithuanian law on personal data protection and international agreements by writing a letter to minority representatives. While, the Minister's public statements are subject to punishment pursuant to the article of the Penal Code concerning accountability for ethnic hostility. However, G. Steponavičius himself doesn't take the accusations seriously.
Controversial letters to Polish parents and hostile statements about Poles
A voluntary worker of the European Foundation of Human Rights, Rajmund Kłonowski, told DELFI that the Foundation petitioned to the Prosecutor's Office for  two reasons. First of all, because of the letter sent to parents of minority students concerning changes in the education system. 'The Ministry proudly informed that 26 thousand letters were sent to parents of the Polish minority students. This means that the Ministry is storing files on personal and address data according the ethnic minority criteria. And this poses a real danger. Imagine yourself in those parents' place. Imagine you are representatives of a certain minority group in a country whose society still perceives you as disloyal citizens. And now some  institution has received and illegally processed personal data of representative of this minority. And subsequently published it. It is evidence sound enough to feel scared' – R.Kłonowski explained.
The second accusation is connected with his public statements about Poles. 'There were tens of such statements. And a few of them were most definitely of a hostile nature.' – R.Kłonowski says.
According to the Penal Code, the punishment for inadequate use of personal data ranges from social services, through a fine and restriction of freedoms to imprisonment of up to three years. 'National hostility' is punishable by even two-year imprisonment.
The Foundation is run by Małgorzata Runewicz-Wardyn, who is well-known for the case of Polish spelling of surnames. In August, the First District Court of the City of Vilnius ruled it impossible for her to write her surname in Polish in official documents.
The prosecutors have yet to make a decision
The Head of the Public Relations Division of the Prosecutor's General Office, Rūta Dirsienė, confirmed it to DELFI that the General Prosecutor had received the petitions concerning G. Steponavičiusa filed by the European Foundation of Human Rights. Yet, the decision whether to instigate the proceeding or to dismiss the complaint is still pending. According to R. Dirsienė, the two complaints are now being investigated and the decisions will be made by the prosecutors assigned to the case.
G. Steponavičius suspects these actions to be part of electoral campaign of EAPL
In an interview for DELFI, Minister G. Steponavičius said that he is not serious about the accusations or the complaints lodged by EFHR to the General Prosecutor's Office. The politician says that his actions were right and lawful. 'I am not familiar with this organization (EFPC – DELFI), and once again, accepting full responsibility for my words, I can say that what's of vital importance to me is that the decisions made in Lithuania are well-thought over and implemented according to deadlines and seamlessly. And the steps taken in this direction aim at wide dissemination of information so that it reaches its recipients directly and so that filtering it through local politicians' channels is avoided. (…) The defence of my stand is in the public interest. And with the public interest in mind, I have a right to a direct contact with the parents.' – the Minister said. He also highlighted that the whole situation is indicative of political scheming, in which Electoral Action of Poles in Lithuania has taken part. 'I am not afraid and I do not take such actions seriously. In my opinion, what we see is still part of the same campaign by EAPL. And I do believe that such behaviour will not be of service to them' – the Minister added finally.
http://www.delfi.lt/news/daily/lithuania/gsteponavicius-apkaltintas-tautines-nesantaikos-kurstymu-ir-neteisetu-disponavimu-asmens-duomenimis.d?id=49951636
24-09-2011
Tłumaczenie Katarzyna Różańska w ramach praktyk w Europejskiej Fundacji Praw Człowieka, www.efhr.eu. Translated by Katarzyna Różańska within the framework of a traineeship programme of the European Foundation of Human Rights, www.efhr.eu.