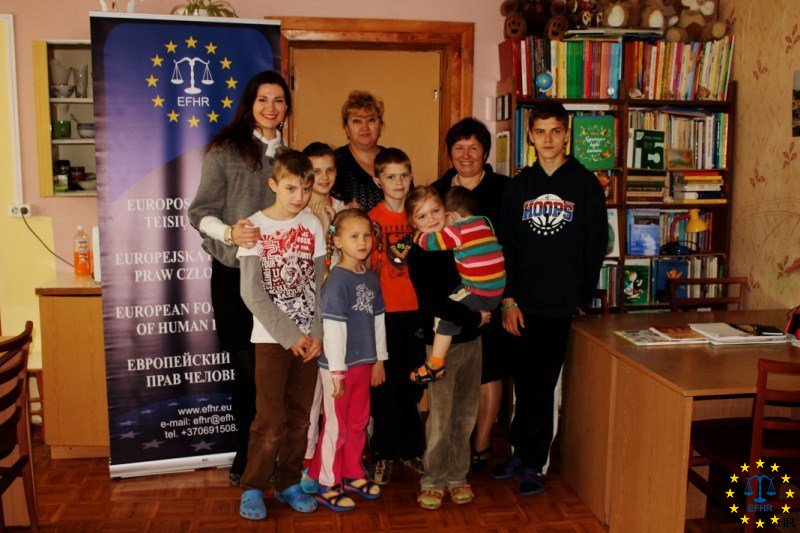 European Foundation of Human Rights, along with "CENTRUM KULTURY I EDUKACJI POLSKIEJ PLUS" (Centre of Polish Culture and Education "Plus"), Polish School Joachim Lelewel at Polish Embassy in Brussels, and "Instytut Środkowo Wschodni" (East Central Institute), as well as many kind people from Brussels has run a campaign to help Polish children's homes in Lithuania under the heading of "DZIECI DZIECIOM" (Kids for kids). Its aim was providing support for, and lifting the spirits of, children from Polish orphanages.
There are three institutions  in Wilno and the neighbouring areas in which Polish children are placed: in Antokol, in Soleczniki and in Podbrodzie. Recently all aid for them has been drastically reduced due to financial crisis.
The organizers were gathering school and office supplies (school and travelling bags), books, candy, toys, and sporting goods (skateboards, child bicycles etc.), electronics, clothes and shoes in Brussels. The gifts were then forwarded to children's homes.
Owing to the support of Polish employees of European Institutions (Commission, Parliament, and the European Council) over 1000 EUR has been gathered and then forwarded to the bank accounts of children's homes. These funds will be spent on paying for holidays for children, buying necessary , renovations etc. Ms. Irena Fiszer, vice-principal of the children's home in Podbrodzie notes quite rightly that 'a children's home is akin to a multi-children family, and its needs are the same as those of any other family." Photo gallery.
Translated by Andrzej Rola within the framework of a traineeship programme of the European Foundation of Human Rights, www.efhr.eu.