European Citizen, be aware of your rights!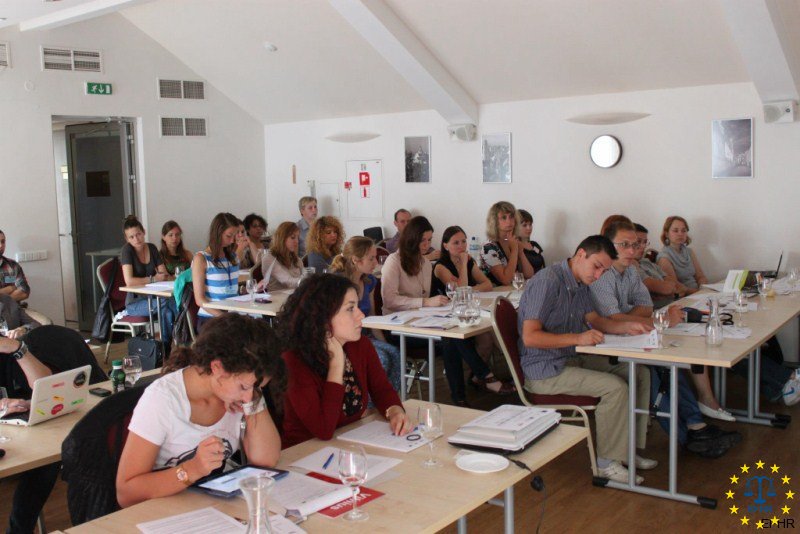 On 6-12 August in Vilnius the summer school "Using Lisbon Treaty for Building Active Citizenship" was held ( read more ). Among 32 participants – representatives of various non-governmental organizations from the European Union and Turkey – the European Foundation for Human Rights was represented by Joanna Gasiul.
Employees of the Human Rights Monitoring Institute in Vilnius (www.hrmi.lt) put a lot of energy and effort into the excellent organization of the training. Participants had the opportunity to meet experts on human rights and EU law from Lithuania, Great Britain and Ireland, and analyze the Lisbon Treaty, the Charter of Fundamental Rights and the concept of citizenship of the EU with them. Participants thoroughly debated on respect for human dignity with a representative of the organization Reprieve (http://www.reprieve.org.uk/), actively involved in the protection of the rights of Guantanamo prisoners; they discussed inaccuracies of the institution of political asylum in the European Union and the situation of asylum seekers in different European countries; they focused on the issues of the rights of children, the disabled and LGBT (lesbians, gays, bisexuals and transgender people); they also discussed the issue of the right to public collections and the empowerment of women.
One could not complain about the shortage of practical examples, as there were many activists from famous organizations protecting human rights in the role of teachers, including representatives of the UN Children's Rights Committee, Centre for Gender Equality (http://www.gap.lt/main.php/id/1/lang/2), the European Institute for Gender Equality (http://ec.europa.eu/social/home.jsp?langId=en), the National Institute of Social Integration (http://www.lithuaniatribune.com/tag/national-institute-for-social-integration/), Transparency International in Lithuania(http://www.transparency.org/), the Lithuanian Gay League (http://www.lgl.lt/indexe.php), Amnesty International in Ireland (http://www.amnesty.org/) and others.
Before the end of the summer school, students had to prove that they had learnt many new things. 32 people were divided into 4 groups and each of them had to write and present a project on a selected topic, which was then evaluated by the specially established committee. We are happy that our representative's group won first place (see photo) for their project titled "European Citizen, be aware of your rights!"
The European Foundation for Human Rights would like to thank the organizer of training, the Human Right Monitoring Institute headed by director Henryk Mickiewicz, for this amazing summer school that addressed currently important and problematic issues of contemporary world.
The European Foundation for Human Rights
Translated by Ewelina Zarembska within the framework of a traineeship programme of the European Foundation of Human Rights, www.efhr.eu.