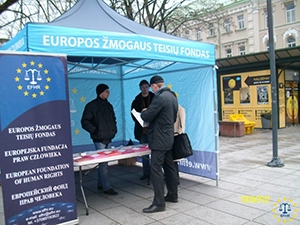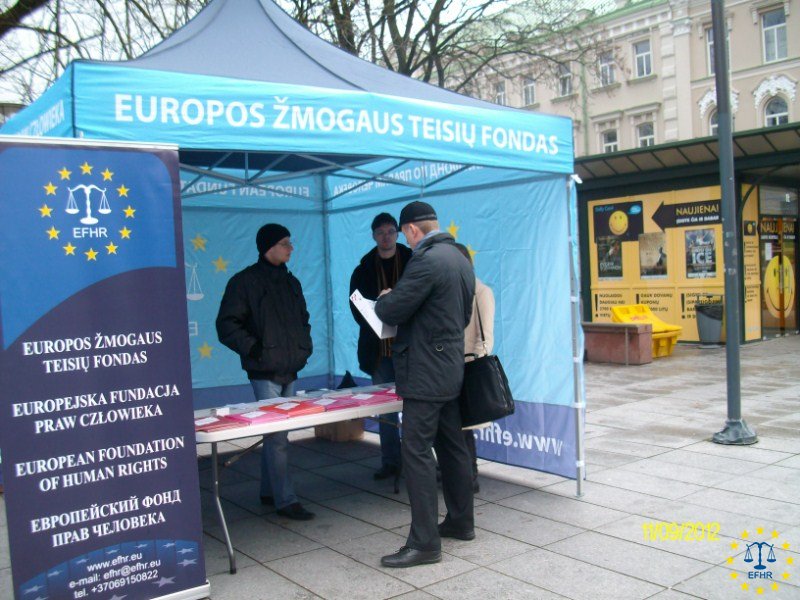 International Day Against Fascism and Antisemitism  – is an annual commemoration of the Jews killed in the Nazi Germany during 'Kristallnacht' (Crystal Night) pogrom that occurred on the 9th of November 1938, commemorated internationally since 1989. Since 1995 the commemoration is coordinated by the biggest in Europe charity organisation against nationalism, fascism and racism – UNITED for Intercultural Action which takes action mostly for migrants and refugees.
This year the European Foundation for Human Rights backed UNITED's initiative and also participated in commemorating this day. The Foundation's stall at the Vinco Kudrikos square in the city centre was received with great popularity by the citizens. Passers-by, though in hurry, found a few moments to stop, ask, and find out more about the commemorated day. The ones who were more interested eagerly took the Council of Europe education packs entitled "Rights and Freedoms in practice". The Lithuanian edition was produced by the European Foundation of Human Rights; it lavishly illustrates the European Convention on Human Rights and exquisitely depicts the function of the European Court of Human Rights. (http://www.efhr.eu/2012/10/23/lithuanian-edition-of-the-council-of-europe-education-pack-rights-and-freedoms-in-practice-is-now-available-for-distribution/?lang=en). The stall gained a lot of interest from tourists as well, as they were pleasantly surprised to find that they could receive information in their mother tongues (the education packs are also available in English, Polish and Russian).
All interested passers-by were happy to be able to receive free legal advice given by the Foundation's lawyers and even made appointments at the Foundation. An elderly woman expressed her delight at the Foundation's initiative: "Nowadays, to be able to receive a service free of charge, let alone – legal advice, is very rare." The woman promised to get back to the Foundation as she cannot afford to pay for a lawyer's consult.
We wish to thank everyone who was there with us and we encourage you to actively fight fascism and anti-Semitism.
If you are interested in our lawyers visiting your institution or city to get free legal help concerning human rights please contact us at efhr@efhr.eu (http://www.efhr.eu/contact-us/?lang=en).
 Translated by Katarzyna Rakalska within the framework of a traineeship programme of the European Foundation of Human Rights, www.efhr.eu.