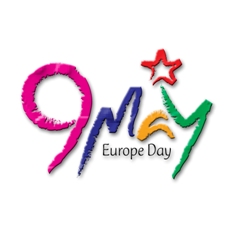 Europe Day is celebrated on May 9th. It commemorates the date of May 9th, 1950, when Robert Schuman, a French Foreign Minister from 1948 – 1952, presented his declaration called the Schuman Declaration or the Schuman Plan. That plan became a new form of political cooperation in Europe which prevented a new war from breaking out. The Treaty establishing the European Coal and Steel Community was signed nearly a year later and came into force in July, 1952. To commemorate it, every year activities and events are organized in EU Member States in order to broaden citizens' knowledge of EU institutions and to bring EU Member States closer together.
In order to celebrate Europe Day, EFHR organizes a trip to the Vilnius Center (Lukiŝkių Square) on May 9th and invite all of you to celebrate Europe Day together with us. Between 11:30 a.m. and 3:00 p.m. an action "Europe Day: human rights today" will be carried out on the Foundation stand. It will be possible to receive information materials on human rights, the European Union, as well as booklets, leaflets etc.
During the event you will also be able to support the first Civic Initiative –  Fraternite2020. EFHR promotes that initiative in Lithuania.
European, join our action and learn more about your rights!
Tłumaczenie by Martyna Kołtun w ramach praktyk w Europejskiej Fundacji Praw Człowieka, www.efhr.eu. Translated by Martyna Kołtun within the framework of a traineeship programme of the European Foundation of Human Rights, www.efhr.eu.