The UNITED conference in Lithuania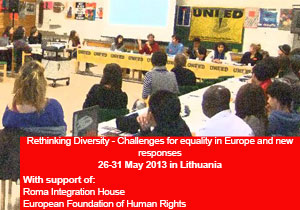 On 26th – 31th May 2013 in Lithuania the UNITED conference entitled "Rethinking Diversity – Challenges for Equality in Europe and new responses" is going to take place.
The aim of the conference is to analyze in detail the term "identity". More than 80 participants from various countries are going to discuss the questions such as what is the way the society perceives the national minorities, as well how the community of the minorities evaluates the diversity within their own group.
Owing the interactive work methods (lecturers, workshops, presentations, debates, etc.), the representatives of NGOs will be able not only to establish new partnerships and create innovative initiatives for human rights, but also to draw up the recommendations and projects regarding discrimination.
The person representing the European Foundation of Human Rights (EFHR) is going to take part in the working group entitled "Turn on – Log in – Take Action Against Online Hate Speech". EFHR is certain that the active operations against online hate speech, as well as the numerous won cases in this area, are conductive to the fact that EFHR will not only gain new ideas, but also familiarize the participants with their experience.
EFHR is pleased to announce that it is the second time it takes part in the UNITED conference and this time it has helped to organize the meeting.
Translated by: Roksana Kasperek