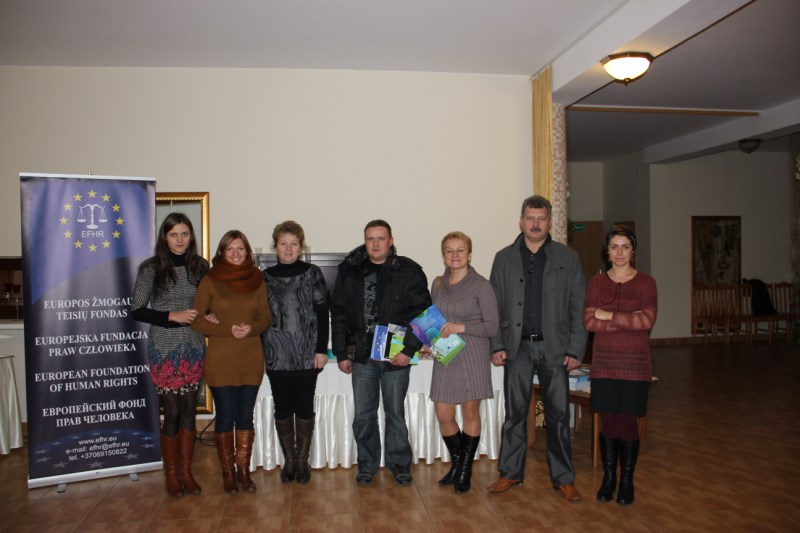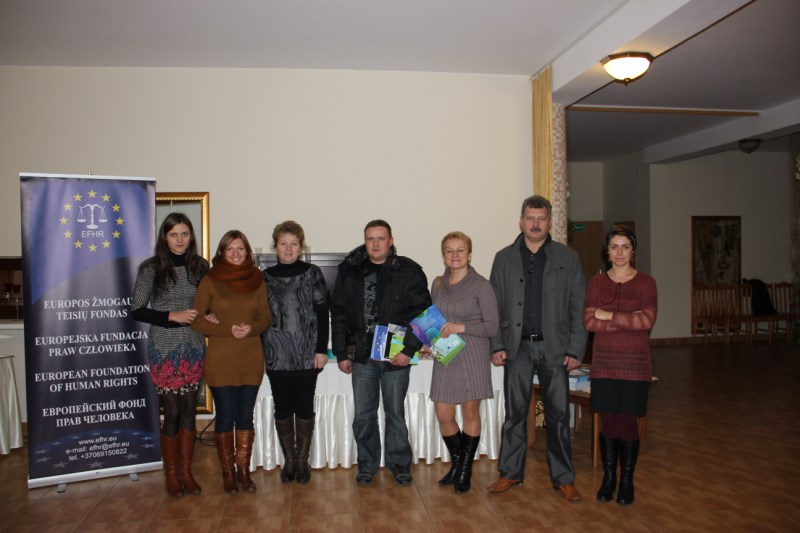 Representatives of the European Foundation of Human Rights (EFHR) have frequently cooperated with children's homes in Lithuania. Since the Foundation's main focus is on national minorities, special attention has been paid to those institutions, where stay children belonging to such groups. Among other activities, we organised lectures and meetings for children with Dr Laura Koba and Prof. Wiesław Wacławczyk in homes in Šalčininkai, Pabradė and Nemenčinė, which mostly take into care children from Polish or Russian families. Eager to continue with these visits, we entered into cooperation with psychologist Jolanta Masian, who specialises in children's, young people's and family therapy. She runs various workshops, e.g., in conflict resolution, effective communication skills, job burnout prevention, motivation for change, assertiveness, mental health, developmental and educational psychology.
In December we launched a series of meetings with a psychologist for guardians and wards of children's homes in Šalčininkai and Pabradė.
On December 4, at the Foundation's headquarters, guardians from these two institutions met the psychologist Jolanta Masian. The nature of this meeting was organisational. It featured a discussion of problems faced by both guardians and wards of the two homes. The aim was to determine the scope and forms of psychological support they all need. Attending guardians admitted that issues they daily tackle at work demand a solid grounding in psychology. Social nonconformity of the wards, law-breaking, high levels of aggression towards their environment, hyperactivity, mental disorders, PTSD or learning disabilities are all but a little chunk of the problems they encounter. At the same time, most of the guardians confessed that they lack the necessary theoretical knowledge, psychological support and assistance in dealing with complex behaviour issues. A brief analysis showed that without such support, guardians who work in demanding conditions, and receive low salaries, are likely to suffer from burnout, which takes its toll on the children. Many of the problems discussed result from imperfect laws and lack of funds. However, they singled out those which stem from insufficient knowledge of developmental psychology of children, and from lack of any psychological support. Moreover, the guardians pointed out that at present there is no system of trainings that would enable them to regularly broaden their theoretical and practical knowledge in the field of their profession.
To round the meeting off, Mrs Masian offered the guardians psychological and educational support, as well as counselling. It was decided that a series of workshops and discussions will be launched in the institutions in Šalčininkai and Pabradė. Such activities should exert positive influence on the guardians' work with the wards, help them devise the right methods, and create a psychologically secure environment, essential to the healthy development of the children. They should also boost their self-esteem, since guardians often feel overwhelmed with the moral responsibility of their profession.
For the coming months, we planned meetings with a psychologist for both children and guardians, which will feature educational workshops, counselling sessions and therapy. These meetings will continue throughout 2014. The EFHR is happy to cooperate and to be of help to children's homes.
EFHR
Translated by Natalia Kosecka within the framework of a traineeship programme of the European Foundation of Human Rights, ww.efhr.eu.