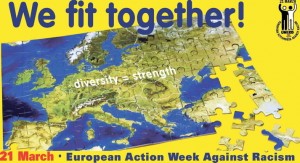 Like every year, on 15-23 March the Europe-wide action entitled "European Week Against Racism" will be held. This is a special week, aimed at highlighting the diversity of the European continent. It has been organized primarily for people who are involved in promoting tolerance and social equality. The European Foundation of Human Rights (EFHR) is also concerned with the struggle against racism, which is the main reason our organization was included in the "The European Address Book Against Racism".
In the biggest cities of Europe, including Vilnius, many cultural events and social actions will be organized. In honour of the celebration of International Day for the Elimination of Racial Discrimination on March 21, EFHR is going to announce a contest dedicated to this initiative. In order to participate in the contest – and for your chance to win 2 cinema tickets – please visit the EFHR page on Facebook today.
EFHR representative Ewelina Baliko, for the campaign "Myliu Panda", will soon give a lecture on hate speech. We would like to invite you to the opening ceremony of the "Myliu Panda" campaign on March 20th at 17.30 in the National Gallery of Art.
The pan-European coordinator of the Week Against Racism is the organization UNITED, which brings together more than 550 organizations promoting the idea of tolerance and equality. This unique initiative has a long history, dating back to 1993, and every year there have been more and more people and institutions that, in a peaceful way, want to discuss the issue of discrimination, as well as promote a new model of society based on tolerance and a culture of peace.
This year is not the first year that we have been involved in such initiatives. The Week Against Racism, being a pan-European and annual event, proves two things. Firstly, that the problem of intolerance still exists – and that it is still a serious concern. And secondly, that in every country there are people who have enough courage to say "No!" to intolerance!
The European Human Rights Foundation invites everyone to participate in the upcoming events, and also to join us for future initiatives to promote the idea of tolerance in society.
EFHR
Translated by: Roksana Kasperek