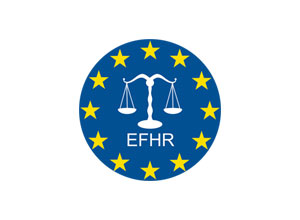 The European Foundation of Human Rights (EFHR), with great pleasure, encounters an increasingly serious approach towards cyber-crime by the institutions and courts of the Republic of Lithuania. This positively complements the EFHR campaign that began a few years ago and is aimed at reducing the sense of impunity on the part of those violating the dignity of others via the Internet.
The punishment of a 20-year-old, who in August 2010 hacked a web page of Wladyslaw Syrokomli Secondary School in Vilnius, could serve as an example.
The Hacker, a resident of Kaunas, was convicted on the basis of Art.196 of the 1st Criminal Code of the Republic of Lithuania for unlawful influence on electronic data. The defendant pleaded guilty – he admitted to charges of hacking and to the removal of information collected on the site (including photos). Finally, the Kaunas Regional Court sentenced the 20-year-old to 50 hours of community service, and obliged him to reimburse the cost of a new website (10 thousand Lt).
EFHR is glad that the identification of online criminals is becoming more and more effective. It gives hope for a more efficient process, conducted by the EFHR campaign, for prosecuting the authors of unlawful comments on the Internet (including discriminatory commentary or those inciting racial or ethnic hatred). So far, there have been 35 successful sentences.
Successes in such cases constitute not only the proof of the scale of the crimes being committed online, but also the fact that those who remove such offensive comments will not necessarily remain unpunished. Thanks to the intervention of EFHR, the Lithuanian judiciary contributes to the penalizing of discrimination and further promotes the idea of tolerance.
EFHR encourages everyone to report offensive comments, discriminatory job advertisements etc., to the address of the Foundation.
We invite you to cooperate with us.
EFHR