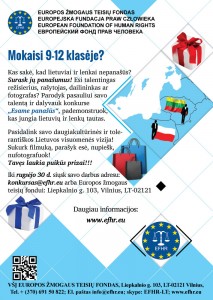 The European Foundation of Human Rights (EFHR) would like to inform you that the deadline for submitting works for the "We are similar" competition (Esame panašūs), organized for the pupils and students of Lithuanian and Polish schools, was 30th September 2014. The project aimed at strengthening social integration of the Polish national minority living in Lithuania, improving the image of Poles and Lithuanians in society and eradicating the negative stereotypes prevailing in the society.
Six integration meetings has already taken place during the project. The St. Stanisław Kostka Secondary School in Paberžė, the Verdenės Gymnasium in Paberžės, the Ferdynand Ruszczyc Gymnasium, the "Ryto" School in Rudamina, the Polish and the Lithuanian schools in Avižieniai took part in the meetings. Over 120 people and 6 teachers participated in the workshops presenting history, art, cuisine, culture and politics common to both countries.
We are delighted that so many interesting and creative works showing how much Poles and Lithuanians are alike have been submitted for the competition. The diversity of the works was surprising – films, poems, essays and artistic works were sent to us.
On 6th October, on our website and our Facebook account, we will present all the works. We encourage you to see them!
Until 15th October the board will evaluate all the works. A day after this the list of winners will be published onhttp://www.efhr.eu/ . Please keep an eye on our website.
Once more we want to thank all the participants for their works.
EFHR