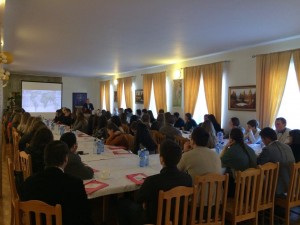 The European Foundation of Human Rights (EFHR) had the honour of hosting the training seminar "How to Balance National Law and International Law: Theory and Practice" on December 3rd, 2014. The seminar was chaired by Fernand de Varennes, one of the world's leading experts on human rights.
During the training session participants discussed practical issues of applying international law in domestic legal systems. Analyzing tensions between these two systems, Professor Fernand de Varennes mainly focused on human rights and their implications on national law. He also explained the nature of relations between democracy and human rights.  The activities of EFHR were also presented.
The training sparked huge interest. There were around 80 participants, including representatives from top state legal institutions such as the Supreme Court of Lithuania, The District Court of Vilnius Region, Vilnius City District Court, the Ministry of Justice as well as lawyers, NGO members and students.
Unfortunately, training sessions concerning human rights are a rarity in Lithuania. According to the Ministry of Justice only 27 such training days took place in Lithuania between 2004 and 2012. However, recent research shows that there is a growing demand for training in this field.
All attendees received certificates, Council of Europe brochures and EFHR flyers.
Thank you for your interest!
EFHR