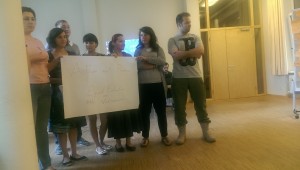 The European Foundation of Human Rights (EFHR) is looking for 2 people who would like to participate in the project "Fighting right-wing populism in Europe". We are looking for people over 21 years of age to take part in the "Simulation Game on Right Wing Populism" meeting in Budapest from 29th August – 3rd September this year. The participants will examine the influence of right-wing populism on democratic culture by taking part in a simulation game.
Participant requirements: the participants should have at least a basic knowledge of right-wing populism and they ought to communicate well in English.
If you want to take part in the project, send us your CV and a covering letter to: praktyki@efhr.eu. The deadline is the 16th August 2015.
As well as participants from Lithuania, there will be people from Greece, Germany, Macedonia, Moldova, Romania, Hungary and Italy in Budapest. The transport and accommodation costs will be covered by the organizers.
EFHR believes that the project will be a great opportunity to not only gain new knowledge but to obtain valuable contacts as well. You can find more info about EFHR projects in the tab "Projects"
About the project:
The project "Fighting right-wing populism in Europe" is organized by the CRIPS. Other partners of this project, aside from EFHR, are also institutions from: Greece, Germany, Macedonia, Moldova, Romania, Hungary and Italy. The project, which will consist of a number of seminars about right-wing populism, will be divided into five stages that will take place in different countries. EFHR will participate in three meetings.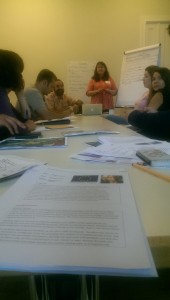 The main aim of this project is to introduce the simulation game related to the sources, causes, dynamics and effects of right-wing populism in Europe. The whole project is designed to help increase understanding of this phenomenon and the rules of action.
The first meeting of the project took place between 11-15th July in Berlin (Germany). This was the preliminary part during which the participants, two of them from EFHR, met each other and discussed the rules and methods of the simulation game. The specific situation in particular European nations was also considered. You can see photos from the event in the gallery.
The third meeting will take place in November this year in Rome. It will summarize the whole project – and the effects of the game will be presented and publicized. Moreover, the participants, who will have discussed the situation in certain regions of Europe, will compare the effects of their work. The participants (20 people) will formulate recommendations and aims relevant to current policy.
EFHR
Right-Wing Populism – the wing of populism which can be seen in the action of radical right-wing parties performing for and with society. There is strong criticism of the ruling parties, who, according to the group/s, represent the interest of the minorities of society. These are the parties who appeal mainly to national, religious and ethnic values.