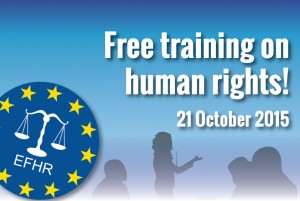 The European Foundation of Human Rights (EFHR) would like to invite you to a training session introducing international law. The training sessions will be held on 21 October and 25 November of this year. This won't be the first training course organized by EFHR and hosted by highly-respected specialists in the field of international law. Find information about previous training sessions here.
The first stage of the training will last for six hours and will be conducted by Professor Ireneusz Cezary Kamiński, lawyer, sociologist, university lecturer at Jagiellonian University and from July 2014 an ad hoc judge of the European Court of Human Rights in Strasbourg (ECtHR). He is the author of seven books and almost 200 scientific publications as well as being an expert for the Council of Europe on freedom of speech and the media.
The second stage of the training course will be held by Fernand de Varennes PhD, who obtained a BA Law degree in Canada and MA title from the London School of Economics and Political Science. In 1996 he gained a PhD from Maastricht University in the Netherlands. Since July of this year he has been a Dean at the Law Department at Moncton University, Canada.
During the training course we will cover the following: how to bring a case before the ECtHR and the most significant and recent changes in that topic. We will discuss basic rules of interaction between national law and the legal system where international security is concerned. We will present theory on using international tools in minority legal protection and also put this into practice.
The training is for everyone interested in the topic of human rights and minority international law. We would especially like to invite those who work within the legal field on a daily basis, such as lawyers, attorneys, prosecutors, judges, employees and students. Every participant will gain a certificate.
During the training course we will cover the following:
How to effectively bring a complaint to the European Court of Human Rights – The rules and recent changes.
The procedure of the European Court of Human Rights for examining complaints.
The most significant of the newest judgements of the EctHR: the right to life, prohibition of torture, the right to private and family life.
Could the European Court of Human Rights deal with "historical cases"?
The training session will be held at the EFHR headquarters: Liepkalnio 103, Vilnius. You can sign up until 19 October via email: szkolenia@efhr.eu or by using our online form. The registration is now closed. Obtain more information by calling: +370 691 50 822.
You can download the programme below.
Join us!
EFHR