EFHR invites you to attend our "International Law Litigation and Human Rights" Training Course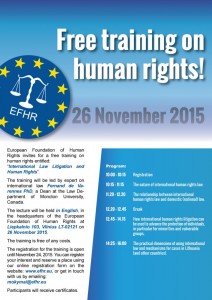 The European Foundation of Human Rights (EFHR) would like to invite you to attend a training session introducing international law litigation and human rights.
The session, which is completely free, will be held on 26 November 2015.
The training day will be led by international law expert Fernand de Varennes PhD, who obtained a BA Law Degree in Canada and his MA title from the London School of Economics and Political Science.                                                                      In 1996 he gained a PhD from Maastricht University in the Netherlands. Since July of this year he has been a Dean at the Law Department of Moncton University, Canada.
During the training course – which will be held in English – we will cover the following:
The nature of international human rights law.
The relationship between international human rights law and domestic (national) law.
How international human rights litigation can be used to advance the protection of individuals, in particular for minorities and vulnerable groups.
The practical dimensions of using international law and mechanisms for cases in Lithuania (and other countries).
The training is for everyone interested in the topic of human rights and minority international law. We would especially like to invite those who work within the legal field on a daily basis, such as lawyers, attorneys, prosecutors, judges, employees and students. Every participant will receive a certificate.
EFHR has organized a number of training courses over the years which have been hosted by highly-respected specialists in the field of international law and proved hugely popular. Find information about previous training sessions here.
The training will be held at the EFHR headquarters: Liepkalnio 103, Vilnius, LT-02121.
You can sign up until 24 November via email: mokymai@efhr.eu or use our online registration form. Obtain more information by calling: +370 691 50 822. Please be aware that there are a limited number of places available.
We look forward to seeing you there!
EFHR