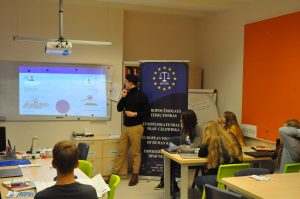 Friday 14th of October was another great day in campaigning against hate speech. The European Foundation of Human Rights (EFHR) representatives Ewelina Baliko and Maximilian Gallo were entitled to give a lecture on hate speech crimes at the Vilnius International School.
The lecture tackled many important questions such as: what is hate speech, how to identify it and what kind of legal procedure and sanctions might the perpetrators face. Also, discrimination in job advertising was shortly discussed.
The lecture was everything but a monologue. The event was highly interactive as the pupils were assigned short group work tasks to learn to identify hate speech in their everyday environment. These tasks were later discussed jointly. The pupils raised many interesting questions and they were exemplarily involved. The EFHR will award three most active students a small present to each of them.
The EFHR would like to thank the Vilnius International School and its pupils for making this event possible. The EFHR will continue giving lectures in schools on hate speech to spread the knowledge and values of tolerance for the next generation.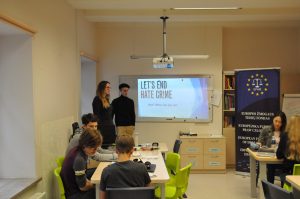 Everyone interested in free of charge training courses conducted by EFHR in a working or learning place can contact us via email (mokymai@efhr.eu) or by phone (+370 691 50 822). More information about conducted by EFHR away trainings are available here.
                                                                        EFHR