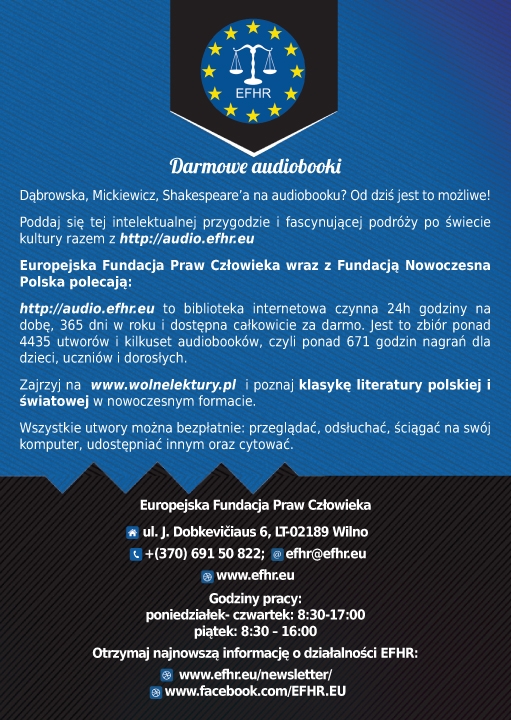 EFHR has been encouraging readers from Lithuania to use internet library https://wolnelektury.pl/ already for some years.
'Free Reading' is a Modern Poland Foundation project carried and cooperated with National Library, Silesian Library and Elbląg Library under the patronage of Ministry of National Education, Ministry of Culture and National Heritage as well as of Polish Writers' Association. Library is also available on mobile devices operating Android OS.
In internet library collection 'Free Reading' there are 4435 works and required readings for schools recommended by Ministry of National Education of Poland. All works contain annotations and are available in few formats.
There also are several hundreds of audiobooks which are adjusted to people having poor eyesight, ones that are blind and people having troubles reading. E-books are segregated according to period, kind and genre which helps finding interesting pieces.
From March 2011 to December 2016 library website has been visited by 39 283 users form Lithuania (in the same period of time from December 2015 until the end of 2016 14 166 users from Lithuania). It shows that people are getting more interested in literature.
The newest issue of library is about children rights. Collection has been formed with cooperation with the Office of the Ombudsman for Children. Its' basics are the works of Janusz Korczak, directed to a young reader and pedagogical works that are great books for parents and teachers. Collection also includes Convention on the Rights of the Child – the most important document concerning children rights, signed by all countries of the world, except of USA. As well as Declaration of the Rights of the Child from 1959 and Declaration of the Rights of the Child – Geneva Convention.
EFHR is happy about collaboration with Modern Poland Foundation. Leaflet prepared by EFHR is available on our website.