On June 29th the European Foundation of Human Rights (EFHR) held a free of charge training course on hate speech and discrimination. Training course was held at Juodšiliai community's Social Services Centre.
The training course was conducted by the lawyer at EFHR, Lešek Jankovskij. Lawyer introduced Foundation's activity fields to the audience – an organization that responds to violations and abuses of human rights and national minorities in Lithuania, provides direct legal assistance to the disadvantaged, examines the issues of spelling of names and surnames in official documents.
One of the main themes of the training was hate speech. The EFHR representative discussed key issues such as: the concept of hate speech, the cases of this phenomenon in Lithuania, how to recognize the line between freedom of speech and hate speech, and what kind of sanctions hate speech can bring.
Lawyer also discussed about the concept of discrimination, such as discrimination against national minorities and provided a few examples. Much has been said about direct and indirect cases of discrimination. EFHR representatives and volunteers are actively monitoring job postings and, if they see that they are of inappropriate nature, they forward them to the Equal Opportunities Ombudsman, who thoroughly examines these complaints. EFHR's achievements in this field are considerable. The Foundation has filed over 78 complaints about discriminatory job postings.
At the end of the training course, participants had the opportunity to ask questions and receive free legal help.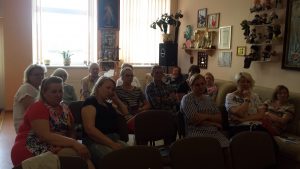 EFHR wishes to thank all the participants and hopes that participants deepened their knowledge of human rights, became more aware of cases of discrimination and that the training course was useful. EFHR organizes numerous training courses where experts from relevant fields discuss different legal issues, share their experiences and research findings with the listeners.
For all those who wish to participate in EFHR training courses or wants invite EFHR to organize a training course about human rights and discrimination for their team, we invite you to contact us at mokymai@efhr.eu or call us (+370 691 50 822) and together we will prepare a programme that best suits your needs.
More information about the previously held trainings can be found on the EFHR website. Next training course about hate speech will take place on July 17th at 2:00 pm at Multifunctional Culture Centre in Nemenčinė (Švenčionių str. 12, Nemenčinė, Vilnius region).