New EFHR leaflets about hate speech, hate crimes and non-discriminatory job advertisements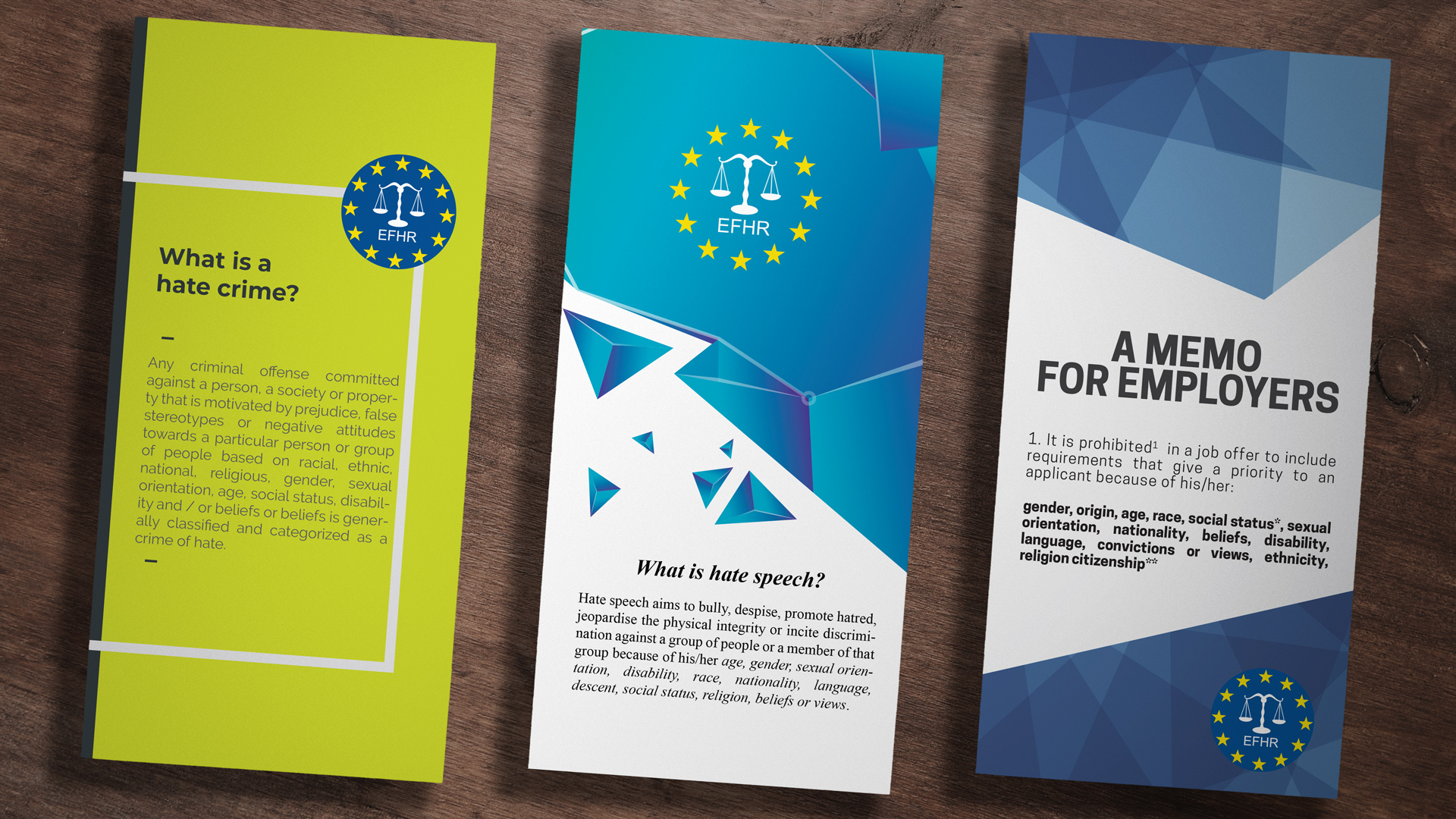 European Foundation of Human Rights (EFHR) has prepared new leaflets in 4 languages about hate speech, hate crimes, and non-discriminatory job advertisements, financed by the Embassy of the Republic of Poland under the project 'EFHR – active, supportive, and visible centre of free legal advice'.
The information about hate speech, hate crimes, how to recognise it and where to find help is provided in these leaflets. It is worth mentioning that 95% of hate speech cases are directed against nationality, for example, against Russians, Polish or the Roma people. On the other hand, often victims of hate crimes, e.g. victims of violence, ignore the fact that such crimes are twofold with a context of race or nationality (hate for Polish people, Russians) and they are not always classified correctly by the police. Individuals who commit hate crimes can be held criminally responsible. The penalty for committing a hate crime depends on its type and aggravating/mitigating circumstances.
Representatives of companies sometimes apply special requirements to job vacancies, which do not comply with Lithuanian and European laws. For this reason EFHR has prepared new leaflets: booklets for non-discriminatory job advertisements, where information about the requirements for job advertisements and non-discrimination on the basis of gender, age, disability, race, religion, nationality, political beliefs, membership of trade union, ethnicity, beliefs, and sexual orientation can be found. All forms of discrimination are prohibited not only in job advertisements, but during job interviews as well: it is forbidden to require for provision of candidates' information about their marital status, age, personal life and family plans.
The aim of the prepared leaflets is to strengthen the situation of the Polish national minority in Lithuania, to increase its range of activities and to spread the knowledge about their rights. The leaflets were sent to Polish schools and libraries in Vilnius and Vilnius district and they will be distributed during EFHR trips and trainings as well.
Anyone wishing to read the information can find it on EFHR website or directly at EFHR, J. Dobkevičiaus g. 6, Vilnius,