EFHR discussion "There is no place for racism in football"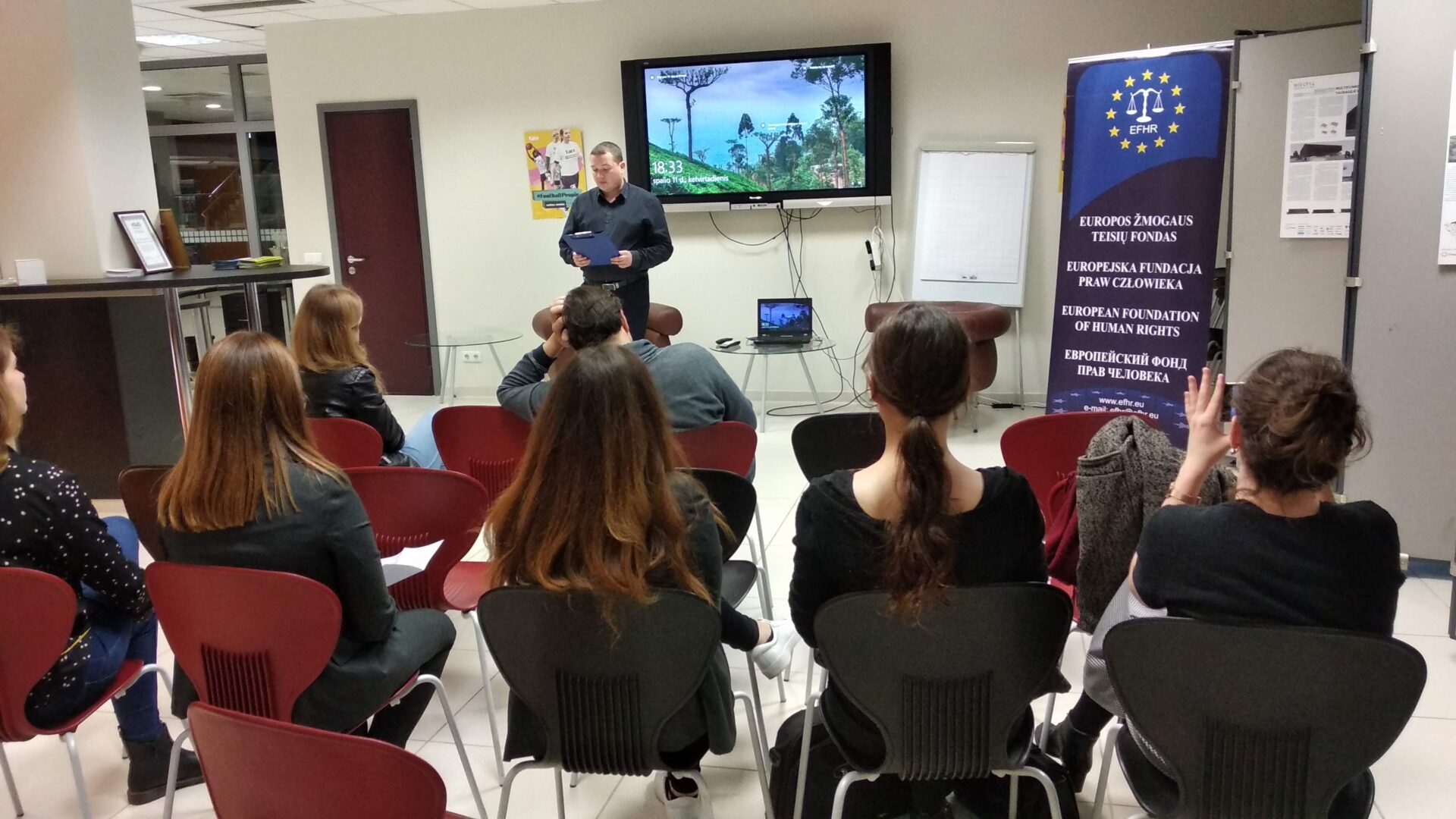 Yesterday, 11th of October European Fundation of Human Rights held a debate on "There is no place for racism in football", during which was a discussion about tolerance limits, athletes' experiences, the Equal Opportunities Office practice in combating discrimination, and the case law of the European Court of Justice in similar cases. Audience also sought to find an answer to the question " How much tolerance is in football?"
Veronika Lisauskaitė started the discussion with Foundation's presentation about organization's activity, then the representative of the Equal Opportunities Office, Vytis Muliuolis, who is the Head of the Legal Department of the Office, introduced the audience to the practice of the office and the former cases of discrimination. Later on, Agnė Žiūkaitė, an athlete who plays with the Vilnius Academy of Arts and the Sunday Soccer League "SK Pressas" teams, presented to audience insights on the topic "Limits of Tolerance in Football". The girl said that the teams accepted her with democratic way, when voting was held according to the question of her acceptance. The results of the voting were favorable and A. Žiukaitė stated that his entry into the team obliged other players to be tolerant. The athlete said that situation when sword words are used in the field is common and she describes them as emotional language. Dalius Matvejevas, a representative of the Vilnius Regional Football Association, said that the opponent often tries to mock player with the most striking feature of the opponent (color of the skin, composition, hair color or gender), but this is mostly related to non-sport behavior and the judge must control situation with the appropriate cards. Dalius Matvejevas argued that this kind of behaviour should be control more stringent. A. Žiūkaitė concluded her insights with idea that her biggest offense is when the opponent's man decend himself clearly to her and does not play as a rival to her own because of her gender.
As the discussion drifted towards the end, the Foundation's lawyer, Leszek Jankowski, presented the case law of the European Court of Justice in the fight against racism and discrimination. The event was completed by speakers awards with symbolic prizes. The discussion was held as part of the Fear Network organized worldwide Action Week, with the main goal of combating discrimination and racism in football, increasing the level of tolerance for this sport, professionals, amateurs and spectators.
The European Foundation of Human Rights thanks the Vilnius City Municipality, speakers and participants who have come and share their experiences on " There is no place for racism in football".