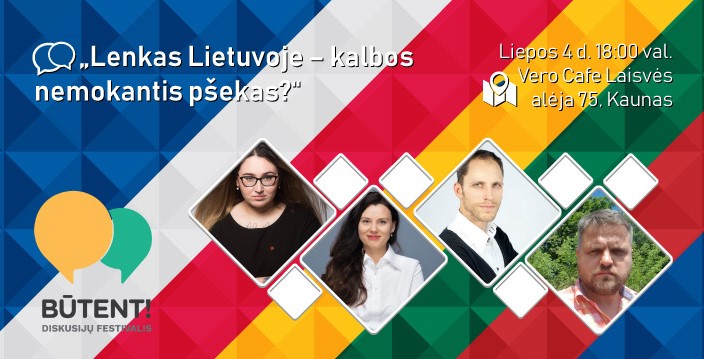 At the initiative of the "Būtent!" ("Makes sense!") discussion festival we are meeting on July 4 in Kaunas, where the European Foundation of Human Rights (EFHR) is organising a discussion "Polish people in Lithuania: language-ignorant Polacks?".
According to the population census of 2011, there were only 0.36 % of Poles in Kaunas. Nevertheless, they are still the largest national minority in Lithuania, making up the largest part of the population in some regions. Despite long common history, the situation of the Polish in Lithuania remains controversial: the Poles are in the penultimate place in terms of education (the Roma are in the last place) and are often portrayed in the society as language-ignorant Polacks, posing a threat to the safety of society.
During the discussion the EFHR will try to rebut the above-mentioned stereotype. In order to do so, several famous Lithuanian Poles were invited: Dr. Katarzyna Miksza, associate professor at the Mykolas Romeris Law School, associate professor at the Institute of International and European Union Law, member of the Association of Polish Scholars of Lithuania; Dariusz Malinowski, journalist at LRT Radio, a public figure and expert on public relations, following the motto "Who if not us, the Poles?"; Dariusz Litwinowicz – a 43 year old Pole, a citizen of Lithuania, member of the Lithuanian Riflemen's Union sine 2015. He graduated a Polish school and his three children have also attended or are still attending Polish schools. He always introduces himself to Lithuanians with his name and surname written in Polish. The discussion will be moderated by Ewelina Dobrowolska, a lawyer cooperating with the European Foundation of Human Rights (EFHR) and other non-governmental organisations. Ewelina represents clients in court in cases related to hate crimes, human rights and original spelling of personal names.
After the discussion, everyone will have the opportunity to discuss their human rights concern with EFHR lawyers.
The event will take place on July 4, at 6 PM in Vero Café, at 75 Laisvės al., Kaunas. The discussion will also be broadcasted on the Internet.