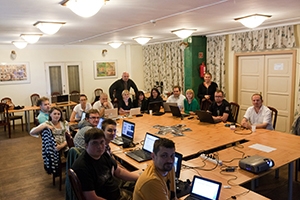 The participants of the II International Journalism Workshops in Budapest gained many practical skills, such as improving journalistic skills, photography, filming and creating a website. The workshops were attended by young Poles from Great Britain, Spain Ukraine, Croatia, Russia and Hungary, and also two people from Lithuania: Beata Naniewicz and Rajmund Klonowski, volunteers from European Foundation of Human Rights.
The participants not only perfected their skills in writing news, reviews, interviews, photo taking, film shooting and editing, but also met with the director of Consular Section of the Embassy of the Republic of Poland in Budapest, legal advisor, Anna Derbin, and the director of Polish Institute in Budapest, Arkadiusz Bernaś, and of course they were also charmed by the sights of Budapest, they integrated, acquired new contacts, shared their experience and knowledge.
http://polonianova.wordpress.com/ – this is what the 'end result' of the workshops looks like. This website is where you will find works produced by the participants, information on all the participants and teachers, and plenty of information useful to young journalists of the Polish Diaspora. The website was created – by the participants and teachers – in record timing.
The International Journalism Workshops are designed with young Polonia journalists in mind, both those who already work as well as those who plan to cooperate with the media of the Polish Diaspora.
The project combines educational and integration. It aims at the development and modernization of Polish media, activating the young Polonia and laying down foundations for cooperation among representatives of the media of the Polish Diaspora.
I International Journalism Workshops concentrated on problems of Polonia's press, while the programme of the II Workshops was connected mainly with the development of Internet means of communication.
II International Journalism Workshops took place in Budapest from 23rd to 31st of July. The organisers of the project: Cultural Society Polonia Nova and Local Government of the Polish Minority of Budapest II district. The participation of the two Poles from Lithuania were reimbursed by the European Foundation of Human Rights.
Tłumaczenie Katarzyna Różańska w ramach praktyk w Europejskiej Fundacji Praw Człowieka, www.efhr.eu. Translated by Katarzyna Różańska within the framework of a traineeship programme of the European Foundation of Human Rights, www.efhr.eu.