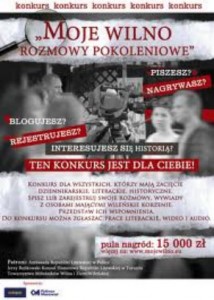 European Foundation of Human Rights invites to participate in the artistic competition of Janowicz brothers "My Vilnius. Generational Conversations". The aim of the competition is to show the bonds that unites Poles and Lithuanians in the generations' conversations. To win is 15 thousand zlotys.
Competition of Janowicz brothers "My Vilnius. Generational Conversations" is a personal initiative of Jan and Leon Janowicz family. In Poles mind and artistic activity who brought up in Vilnius, Lithuania always stayed as a unique and magical place.
The initiators and organizers of the competition is a member of Janowicz family – Tomasz Ulatowski and a longtime publisher of Leon Janowicz's books – Maciej Zarebski. Both men decided to continue the Janowicz brothers' artistic activity after their death by publishing books "Uncommon erudite…" about Leon Janowicz and "Diary. So it was"- Vilnius memories of Jan Janowicz.
Jan and Leon Janowicz were Poles brought up in Wileńczyzna. For that reason Vilnius climates and accompanied them throughout their life. Leon Janowicz was writing books dedicated to Vilnius and Lithuania. Jan was writing and painting. In his paintings appeared Lithuanian landscapes and memories concluded in the diary "So it was".
Participation in the competition is open to everyone, regardless of age, language and country of residence. The organizers hope to have a large representation of young people who write down or register their conversations and interviews with grandparents, parents, neighbors and look through family albums, look up to old letters or diaries. A result is going to be an extraordinary "Generational Conversations", which will be records of human memory in a literary, video and audio form.
The competition is open to everyone for whom Vilnius has a special place in heart, memory and family traditions. Competition works should be sent by 31 March 2012 in accordance to the Competition Rules.
Organizers predicted awards in three categories: literary, video and audio recordings. Mr. Tomasz Ulatowski spends on prizes 15 thousand zlotys.
"I hope that through the competition we will bring out all good in Polish-Lithuanian relations. I realize that the patrons of the competition are not well known characters. However, Janowicz brothers are the evidence of real Vilnius sentiments and such climates will look just the work of the competition." – says Tomasz Ulatowski.
The competition is sponsored by Embassy of the Republic of Lithuania in Poland and Honorary Consul of the Republic of Lithuania in Torun – Jerzy Bańkowski. The organizers admit that the desire to collaborate with other organizations and people involved in the Polish-Lithuanian relations. The financial support to the competition allocated Multimedia Poland and Polimex.