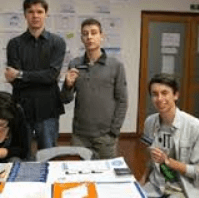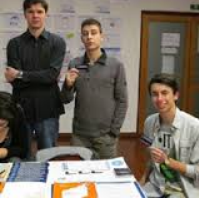 Between the 23rd of November and the 1st of December, an organisation specialising in hosting  courses related to inter-cultural dialogue called ConnectART, held a training course in Porto (Portugal) named "What about gender" (Co na temat płci). Almost 30 participants from 10 European countries took part in the training, who represented various NGOs. Lithuania was represented by two trainees of the EFHR, Kamil Szwarc and Krzysztof Górski and also an employee of our organisation, Zbigniew Malewski.
The main topic of the training was the widely-understood discrimination on the basis of gender and issues related to that. Keeping up to the fast paced developments in teaching, the organisers decided to abandon traditional lectures and opted for non-typical and active forms of learning. Workshops, debates and other forms of theoretically-practical activities were designed in such as way to integrate the participants and stimulate natural collaboration within the group. During the activities. The issues of discrimination against women, evolution of their role in the society and the differences in salaries were all brought up in the course of the training. A significant portion of time was also dedicated to debating on the elimination of discriminative attitudes and harmful stereotypes, which still exist even in western European societies. The matter of fighting against discrimination by the means of legal action was also not omitted. The timetable was filled with activities from top to bottom, from the arrival day, up to the farewell evening. During one of the evenings where participants presented their promoting organisations, EFHR and its activities turned out to attract a lot of attention, especially from Balkan representatives.
Regular coffee breaks between planned activities created an ideal environment for inter-cultural and international integration of the participants. The discussions that took place in between the activities, surely positively impacted on the training course's success, which has in fact been joinly confirmed by all participants. "It is a fabulous skill to be able to organise a training course during which no participant is hesitant towards sharing their opinion, where everyone has the chance to share their view and take active part in discussions, has the opportunity to visit the host city and make valuable contacts" – this is what one of the participants said about the training course after it finished on the 2nd of December. Building on that success, the host organisation has already announced a new training course for the year 2013, for which EFHR has been invited.
EFHR considers such training courses to be invaluable as they help to create and shape the desired attitudes in society. The Foundation also supports public discussion about women's rights as issues related to that are undervalued,  insufficiently publicised and often ignored.
Should you need to do so, we invite you to make complaints on the basis of gender discrimination. The Foundation will be here to give you free, impartial legal advice.
Translated by Kamil Szwarc within the framework of a traineeship programme of the European Foundation of Human Rights, www.efhr.eu