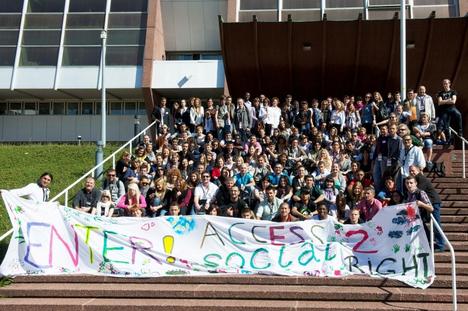 The training will be divided into three parts: 
Preparatory seminars: 11-21: March 2013 in Strasbourg
Self-development and learning: April 2013 – June 2014
Evaluative seminar: 2014 (date to be confirmed) 
The Youth Department is starting a course for youth workers in the field of social rights. The aim of the course is to most importantly:
– To investigate of how politicians on the European level can support youths with their activities.
– To promote access to social rights for youths in order to fight violence and discrimination which young people tend to encounter on their career paths.
– To introduce the participants to socio-educative development aspects of the project.
– To introduce the participants to relevant European mechanisms and instruments which act as support for young people to help them overcome the adverse situation created by discrimination, exclusion and violence. 
The project will provide practical basis of learning about how to promote the social rights of young people and how to make the best use of youth research in terms of youth politics which should be carried out in conjunction with local and regional authorities. 
Anyone applying to participate in the training need to meet the following criteria:
– Candidates must be 18 – 35 years old (exceptions possible).Candidates must be social workers or persons who work with young people.
– Candidates must be active in an NGO (eg. A Human Rights organisation, youth organisation) or in a local authority (local community centres, youth centres).
– Candidates must have experience in projects regarding solving the problem of discrimination and violence against young people.
– Candidates must be able to work in English or French.
– Candidates must be volunteers. 
The financial side: 
Catering and accommodation for the duration of the training will be provided by the Council of Europe. Travel expenses to seminars will be fully refunded according to the Council of Europe rules. Application fee is 60 Euros. The Council of Europe will not refund any costs related to internet usage during the training. 
Information about making an application and more details can be found at the link below. http://enter.coe.int/ 
Applications can be submitted until the 20th of December 2012
Translated by Kamil Szwarc within the framework of a traineeship programme of the European Foundation of Human Rights, www.efhr.eu.