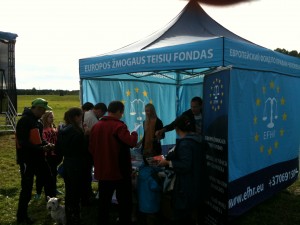 Between 19 and 21 July in Bieliškes (the Vilnius Region) near the Asveja lake there was the 25thJubilee Touristic Gathering of Poles in Lithuania.
Participants and guests of the Jubilee Touristic Gathering of Poles in Lithuania had the chance to become acquainted with the activity of the European Foundation of Human Rights (EFHR). At the Foundation's table they could find free brochures on human rights, the European Union, internship at the EFHR; they could also take home many gadgets. Everyone who needed legal aid could get free legal advice or make an appointment for a meeting at the EFHR's premises. The youth was particularly interested in the possibility of the programme of volunteering and internship at the EFHR. They were positively surprised with the amount of educational materials prepared by the Foundation: the Polish and the Lithuanian version of the Brochure of the Council of Europe "Rights and responsibilities in practice" and "47 states and one organisation… the Council of Europe".
During the second day of the Gathering everyone could take part in a contest based on human rights, which was organised by the EFHR. The contest was about finding the correct answer to questions such as: what is mobbing, what is the Council of Europe etc. Almost everyone who had become acquainted with educational materials at the Foundation's table received a symbolic prize. The main prize, iPod Shuffle 2GB, was drawn by Vest Baranovskaj. We send our congratulations and an invitation to pick up the prize from the Foundation's premises (Liepkalnio 103 Street, Vilnius). New apprentices- Tomaš Jenkelevič and Marek Siavris- represented the EFHR well during the Gathering. They were also monitoring the contest. Despite the fact that during the opening the weather was bad and rainy, thanks to the EFHR's tent even the weather had no influence over receiving the persons interested, and the Foundation is happy with the great interest of participants of the Gathering. We thank you all for taking part in our contest.
EFHR
Translated by Emilia Zawieracz within the framework of a traineeship programme of the European Foundation of Human Rights, www.efhr.eu.