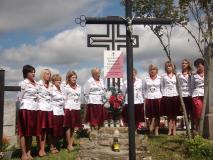 The historical gala "Odyssey of Soldier" was held in Medininkai on 11th August in order to commemorate the 150th anniversary of the January Uprising of 1863. In connection with this, the European Foundation of Human Rights (EFHR) organized the trip do the Medininkai Culture Centre in order to celebrate this special day and to acquaint the inhabitants of the town with our activity. The tent of our Foundation attracted plenty of the curious and interested, among whom were both inhabitants of Medininkai and the guest taking an active part in the aforementioned event.
The EFHR, according to the tradition, made accessible the informative materials (including brochures, fliers, gadgets etc.) to all those expressing an interest, which immediately aroused curiosity all of the participants. They were also given a unique opportunity to consult the lawyers of our Foundation. Our employees explained the scope of our activities, forms of help, the won issues, as well as the cooperation with other organizations of human rights.
All the gathered were also encouraged by the EFHR to take time to develop an interest in the laws entitled to the members of the European Union, the human rights and the activities of the Foundation within this scope on our webpage: www.efhr.eu, which contains precise and valuable information on the human rights, as well as the structure of the European Union and its institutions. The largest group indicating an avid and burning interest in our activities was the youth.
The EFHR is delighted to see such an enormous enthusiasm of the inhabitants of Medininkai and the impressive activity of the young people.
EFHR
Tłumaczenie by Joanna Mirek w ramach praktyk w Europejskiej Fundacji Praw Człowieka, www.efhr.eu. Translated by Joanna Mirek within the framework of a traineeship programme of the European Foundation of Human Rights, www.efhr.eu.