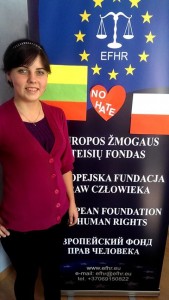 Internet action aiming to eliminate the lack of trust between the two nations.
Poles admit to and reprove the hooligan act carried out by the supporters the Lech Poznan football club. This fact is confirmed by the action organised by the Polish newspaper 'Gazeta Wyborcza', during which signatures were taken for a letter of apology to Lithuania, for the amoral behaviour of the aforementioned Polish football fans. The mentioned action does indeed prove that Poland is not an indifferent country and does show willingness to maintain friendly relations in terms of communication, with other nations.
Concern by the above described incident was shown by all citizens of Poland, not only by football fans, supporters and those with interest in sports, but also by ordinary people who simply do not tolerate insulting other nations.
Moreover, on the social networking portal Facebook, a positive and outstandingly pleasant action related to the unpleasant incident. The representative of 'World Shapers Forum' in Vilnius, Mykolas Majauskas invented an extraordinary internet campaign titled 'We love you, Poland'. While holding up posters saying "Poland, we love you" or "Lithuania loves Poland", Lithuanians take pictures which they upload to the web and thereby show their neighbourly attitude. Persons interested in this action "are spreading like a virus".
"This is a new phenomenon that started off as a few posters hanging about. At this moment, the action is joined by politicians, academics and journalists. I believe that there is much love between our countries and we just have to be more open for it. To be honest, I am not interested in what happened in Poznań, this love I'm talking about is above all" – said Mykolas Majauskas.
This spirit of this undertaking also found sunny California and there living Lithuanians. Pictures taken by them appeared on Facebook, as a sign of support for the above described action.
The Polish action of apologies was also praised by a known publicist named Rimvydas Valatka, who praised Poles for their initiative of expressing apologies for the behaviour of their fellow supporters.
The European Foundation of Human Rights also hereby joins the initiative and is immensely impressed by the fact that such actions exist and contribute to strengthening friendly relations between states. The Foundation expresses a positive attitude and hopes that the future to come will bring more actions that encourage good relations between the two countries in question.
EFHR