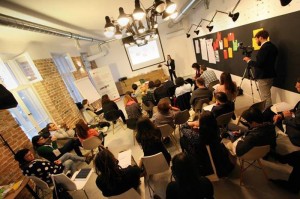 Between October 17 and 18 in Warsaw, a seminar for non-government organisations, which deal with problems of human rights, was held. The seminar was titled 'Key Communication Principles of Watch Dogs Organisations: What Works?' It was a part of a project 'Strong Watch – Enhancing Performance of Controlling Organisations, Informal Groups and Citizens.' There were more than 30 organisations taking part in the seminar, all of them dealing with the issues of human rights in Central-Eastern Europe and Baltic Sea countries. An assistant of the lawyer, Ewelina Baliko, represented European Foundation of Human Rights.
The main objective of the seminar was to improve non-government organisations' skills to engage citizens to act and make an immediate pressure on government and politics in their own countries. Methodology of the seminar covered topics such as information exchange between organisations concerning communication strategies, studies of given cases and practical exercises to consolidate gained knowledge. During the seminar there were presented the newest trends in communication methods used by watch organisations.
'I am very impressed by a high standard and the organisation of the seminar,' Ewelina Baliko said. During the event, Ewelina had an unique occasion to familiarise herself with activities of many well-known organisations, such as Helsinki Foundation of Human Rights or Greenpeace. Ewelina also made many new acquaintances, which will lead to joint projects in the future.
EFHR