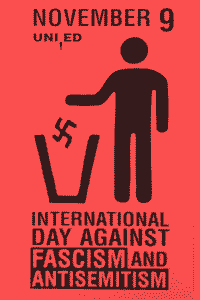 On 9th of November, an International Day against Discrimination and an International Day Against Fascism and Antisemitism was honored. European Foundation for Human Rights (EFHR ) organized some activities to support an international campaign against discrimination promoted by UNITED.
Due to a large number of cases of national discrimination in the whole country, it is necessary to take actions in order to promote tolerance and equal treatment of members of different nationalities in Lithuania. Politically and socially active extremely nationalist movements, media hostility and offensive comments on internet concerning national minorities, anti-minority orientated country policies are only few examples that show a need for a discussion, tolerance promotion and action against discrimination.
Last Saturday (9th of November) EFHR representatives organized an initiative promoting International Day Against Discrimination in the Kudirka square in Vilnius. Passers-by were invited to get some information on EFHR activities and a possibility to get free legal advice on human rights abuse, as well as the possibility of a traineeship in the organization.
EFHR had set an information point in the Kudirka square, where passers-by could learn about different activities of the European institutions and international NGO's that are working on elimination of national and racial discrimination. Passers-by were also provided with pamphlets informing about EFHR activities and anti-discrimination initiatives on local and international level; Council of Europe booklet "Rights and freedoms in practice" and "47 countries and one organization…The Council of Europe", available in many languages, including Polish and Lithuanian. The booklets were prepared by EFHR on Council of Europe request. Passers-by who stopped at EFHR information point, could get information on international reports and statistics in the field of national discrimination in Lithuania, get introduced into hate-speech problem and ways of dealing with it. Postcards, posters, stickers provided by UNITED were distributed to everyone interested in the topic.
EFHR is extremely pleased with all the interest and attention of local city residents and tourist, who were willing to share their experience in the field of human rights and discrimination.
Such initiatives are definitely one of the best ways of getting to the people who are interested in human rights. EFHR is pleased to announce that very soon the Foundation is starting a "Stop Hate Speech" campaign, providing series of visits to schools and colleges. More information on upcoming activities can be found on our website www.efhr.eu.
See you soon!
EFHR