Get to know your rights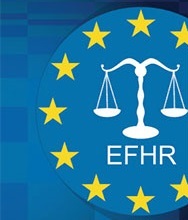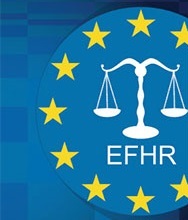 European Foundation of Human Rights (EFHR) is a non-governmental organization established in order to deal with worsening state of obeying human and national minorities rights in Lithuania. The Foundation's aim is to improve this situation through the promotion of equality rules, changes in obeying human rights and also by direct help for the sufferers.
The most exposed to discrimination are those who don't know much about their rights, don't know how to defend themselves nor have a general view on the subject. Being aware of the situation the Foundation is engaged in informing the Lithuanian society about human rights and counteracting to discrimination.
Within the frameworks of its activity the Foundation, in a way which is easily understood by those who are not experts on law, prepared numerous leaflets concerning basic human rights and national minorities rights, possible ways of legislative protection when rights are not obeyed, national and international institutions which can be asked for help.
One of the leaflets covers the information on language rights of national minorities in Lithuania. The leaflet "Do not hesitate to speak your native language" shows various legislative situations, namely language rights you have in a public situations, at court and in everyday life. Another leaflet "Prohibition of discrimination – get to know your rights" informs about the causes of discrimination and possible legal steps that can be taken in order to overcome discrimination in public life. The Foundation prepared also a leaflet which is absolutely necessary for every employee. "Get to know your rights as an employee – a short guidebook" very precisely shows employer's and employee's rights and obligations  in three steps, namely at the moment of concluding a contract, during the work and at the moment of dissolving a contract. In the leaflet "Original spelling of names and surnames – use your rights" you'll find the status of the current situation in Lithuania which prohibits to use original spelling of names and surnames. There is also a short instruction for a possible change of name/surname. Yet another leaflet, particularly significant in current political situation, is the one titled "Who does the ruling concerning bilingual street names refer to", which informs the owners of bilingual street name plates how they should behave.
There are also available leaflets which provide you with information about the European Foundation of Human Rights – a short review of the Foundation's activity and about the Legislative Help Center project which exists from the very beginning of the Foundation. All the leaflets are available at www.efhr.eu site or at the EFHR office at 103 Liepkalnio Street.
We invite you to read!
EFHR
Tłumaczenie by Elżbieta Szafarz w ramach praktyk w Europejskiej Fundacji Praw Człowieka, www.efhr.eu. Translated by Elżbieta Szafarz within the framework of a traineeship programme of the European Foundation of Human Rights, www.efhr.eu.