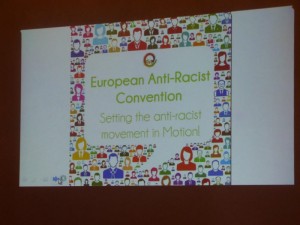 A conference titled "European Anti-Racist Convention: Setting the Movement in Motion!", held by the European Network Against Racism (ENAR), took place in Brussels on 20-21 June 2014.
The conference was attended by over 100 participants from across the European Union (EU) including international law experts, representatives of EU institutions and bodies, and non-governmental organizations.
This year the European Foundation of Human Rights (EFHR) was also invited, being represented by Edita Urbanovic. It is worth noting that EFHR was the only organization from Lithuania at the international meeting.
The main theme of the conference concerned this year's European Parliamentary elections in the context of the possible scenarios regarding the development of extremism in the EU. The 2-day conference was also attended by representatives of the newly-elected EP parties who assured everyone of their cooperation in the fight against racism in the EU.
This time, particular attention was paid to the issues of racism and Islamophobia. Representatives from various NGOs exchanged best practices on combating racism in their countries. Nevertheless, the current situation leaves much to be desired.
ENAR is a Europe-wide anti-racist network that combines advocacy for racial equality and facilitating cooperation in civil society. EFHR became a member of ENAR in 2014.
EFHR is confident that establishing new contacts, as well as new ideas and concepts inspired by the international conference, will help reinforce the objectives pursued by the EFHR.
EFHR