Be a volunteer at Polish orphanages in Lithuania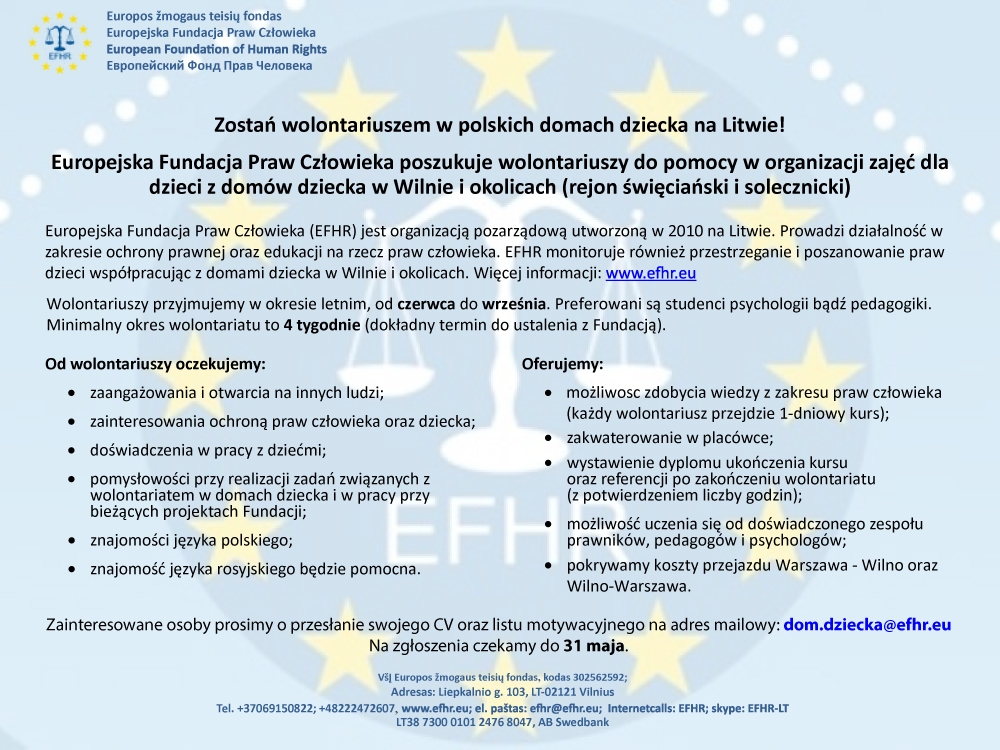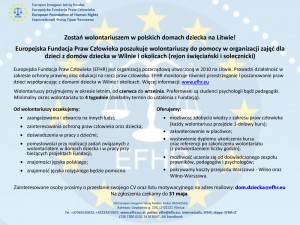 The European Foundation of Human Rights (EFHR) encourages young people to participate in voluntary projects at Polish orphanages in the Vilnius region. You can take part in the voluntary service from June until September 2015.
Voluntary service in orphanages is a great opportunity to help others. This year, EFHR prepared the next edition of the voluntary service, as we staunchly believe cooperation on the part of volunteers with orphanages results in mutual advantage. Thanks to the volunteers, the children interact with new people who provide them with a good time filled with interesting activities and games during holidays. For those who help the children it is a chance to benefit others, experience new challenges and to feel satisfied that they are making a real difference. You may read about the experience of the previous voluntary service participants here.
During the voluntary service, each participant will undergo a one day course about human rights, run by experienced EFHR lawyers. Throughout the time of the project, volunteers have the chance to learn from an experienced panel of education professionals and psychologists. At the end of the project, volunteers receive course completion certificates and references.
We expect volunteers to be open-minded and engaged in work, interested in human rights and the rights of children, and to have experience in working with children. Polish and Russian language skills would be an advantage. We especially invite students of psychology and education to participate.
More information is available on our website. To apply to volunteer please send your CV and covering letter to the e-mail address dom.dziecka@efhr.eu until 31th May 2015.
EFHR