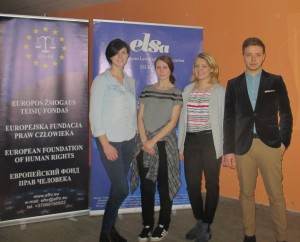 The European Foundation of Human Rights (EFHR) organized an event on 9th of November 2015 in the Vilnius University Law building to commemorate International Day Against Fascism and Anti-Semitism. EFHR set up a stall for passers-by to stop and pick up informative materials (pamphlets, posters, postcards, stickers – all provided by EFHR partner organization UNITED).
A short presentation about the history of fascism and anti-Semitism was projected onto the wall during the study breaks for students to learn about the anniversary and its meaning. Many students approached the stall to find out more about the day and the work of EFHR.
EFHR is pleased to have held the event – which proved a success – and hopes that the day helped to raise awareness about history.
The event was organized by two EFHR volunteers who are taking part in the European Voluntary Service (EVS) and one intern, who is working at the Foundation in partnership with the Erasmus+ programme. The activity was held in cooperation with the European Law Students' Association (ELSA) of Vilnius.
International Day Against Fascism and Anti-Semitism is an annual day to unite against fascism and racism, in particular anti-semitism. UNITED, which has been active since 1993, began the event to mark the anniversary of 'Kristallnacht' (Crystal Night), the first step towards the extermination of the Jewish Europeans by the Nazis on 9 November 1938.
For more info about EFHR campaigns visit our website.
EFHR