Second part of EFHR training session "Implementation of International Law"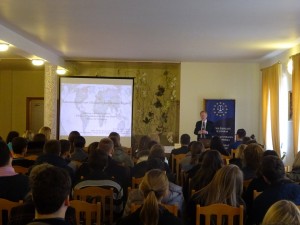 On November 26th 2015, the European Foundation of Human Rights (EFHR) organized the second part of a free training session concerning human rights and legal proceedings in the field of international law.
The training session lasted 6 hours and took place at the EFHR headquarters. The session was conducted by world-renowned international law expert Dr. Fernard de Varennes who obtained his Law degree at Maastricht University in the Netherlands. Dr. de Varennes is also the Dean of the Faculty of Law at the University of Moncton in Canada.
The training session was organized for those interested in human rights and international law. Invitations were sent especially to those working with law on a daily basis – lawyers, barristers, prosecutors, judges, NGO workers and students.
The first part of the training session, titled "The implementation of international law", took place on October 21st 2015. Both training courses were attended by some 100 people.
Primary topics mentioned during the second part of the training session were the history of international law in the field of human rights, the relation between international human rights and national law as well as different approaches to legal proceedings concerning international human rights.
The EFHR would like to warmly thank the distinguished experts who led the training sessions – Professor Ireneusz Cezary Kamiński and Dr. Fernand de Varennes, who both guaranteed the highest professional standard of the events.
Anybody who is interested in taking part in EFHR events is welcome to visit our website where you can find news about upcoming events and information about registration: www.efhr.eu.
The EFHR has organized many training courses conducted by experts in the field of international law. More information about past events can be found here.
We are open to cooperation in terms of the organization of educational events at universities, in schools or at other institutions. If you are interested in finding out more about EFHR training sessions or lectures at your workplace or school, feel free to contact us.
                                                                                                                                                  EFHR