EVS "On Arrival" Training Session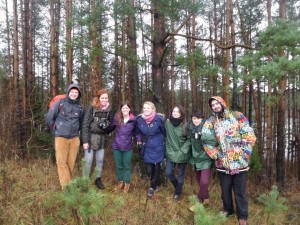 From November 18 – 21 an EVS on-arrival training session took place at the Daugirdiškės conference centre, (Elektrėnai district). Leah Nedahl and Aneta Maciejewska, the European Foundation of Human Rights (EFHR) volunteers who are taking part in the project "Promote diversity, promote human rights", attended the event, along with other EVS Lithuania participants.
On the first day the focus was on getting to know the other volunteers, sharing information and experiences about individual projects and thinking about the benefits of an EVS opportunity. The second day was busy with the group being divided into two teams in order to spend time together during separate hikes. At the end of a long day everyone could enjoy the centre's sauna and unwind. On Friday everyone reflected on the hike as a metaphor for the EVS experience. In the evening the group learnt how to cook delicious traditional Lithuanian fare like šaltibarščiai (cold beetroot soup) and blynai (potato pancakes).
Moreover, during the training the volunteers had an opportunity to get to know the Lithuanian language and culture. The representative of the National Agency informed the participants about their rights and responsibilities.
The venue itself was a terrific place, with excellent facilities and a superb atmosphere. The staff were great – and our volunteers inform us that the food and service will be sorely missed!
The session – which was an excellent opportunity to make new friends – consisted of lots of group activities and fun times. It was also a source of useful information, new ideas and offered new inspiration and motivation for everyone concerning their projects.
Besides EFHR volunteers, the training was attended by EVS participants from such organizations as: A.C. Patria, Panevėžys "Šviesos" specialiojo ugdymo centras, Palemono Vaikų Dienos Centras, Klaipėdos savivaldybės viešoji I.Simonaitytės biblioteka, Plungės viešoji biblioteka and others.
All of the participants will meet again during the so called "mid-term training" in Spring 2016.
The European Voluntary Service is a part of the Erasmus+ Programme which offers financial support for institutions and organizations working in the field of education and training, youth and sport in Europe. The programme is meant to be a response to the challenges pointed out by some of the strategic documents of European politics (mainly the Europe 2020 strategy). Its goal is to develop certain skills of the participants, to increase their employability, to update the educational systems and to support the youth. We have written about it here.
 EFHR