EFHR's Visit to the Campanile of St John's Church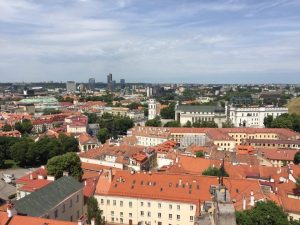 Last Friday (17.06.2016) the EFHR team – both staff and volunteers – enjoyed an afternoon excursion to the campanile of St John's Church in Vilnius Old Town.
Our European Voluntary Service (EVS) volunteers Aneta Maciejewska and Leah Nedahl as well as interns Gabrielė Račaitytė and Karina Gędłek thoroughly enjoyed their visit to the highest building in the Old Town.
After climbing the 193 wooden steps to the top of the church, we were rewarded with spectacular panoramic views of the city. Closer to terra firma, we were also all fascinated by another highlight of the church: Foucault's Pendulum, which demonstrates how the earth rotates.
Following the visit to the church we strolled to a nearby restaurant for pizza – the perfect way to finish the afternoon! The trip and the post-trip pizza-sharing lunch offered an excellent opportunity for our newest additions to the office – Karina and Gabrielė – to get to know everybody better.
The EFHR team have enjoyed a number of office field trips together. Previous excursions have included a trip to the Seimas, a tour of Vilnius City Municipality and an afternoon at Europos Parkas.
EFHR