The Mayor of Vilnius expresses his gratitude towards the European Foundation of Human Rights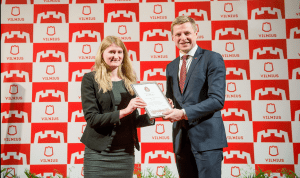 On the January 17th this year, the Mayor of Vilnius gave thanks to the European Foundation of Human Rights (EFHR) and other organizations, institutions, volunteers and enterprises for the cooperation in 2016.
"Today, I invite everyone to share the joy for the achievements of the Vilnius District – the previous year was very favourable for us, but also full of challenges. You can take credit for the beauty, vigour and development of the city, thanks to your good intentions. I want to express my genuine gratitude to all, who contributed to a broad development and growth of the capital city", said the Mayor.
EFHR accepted thanks for "the help in creating the Polish website of the Vilnius town council and the constant cooperation in translating the text for Polish".
EFHR supports the actions of Vilnius that strive for respect for multiculturalism, multilingualism and for creating a city that is open and tolerant through numerous initiatives such as: customer service in four languages, access to information in sign language, the website of the town council in Polish and in Russian.
We are happy that with a little help of our volunteers, we could have contributed to realisation of the town council's initiatives and we wish a favourable year 2017.
EFHR