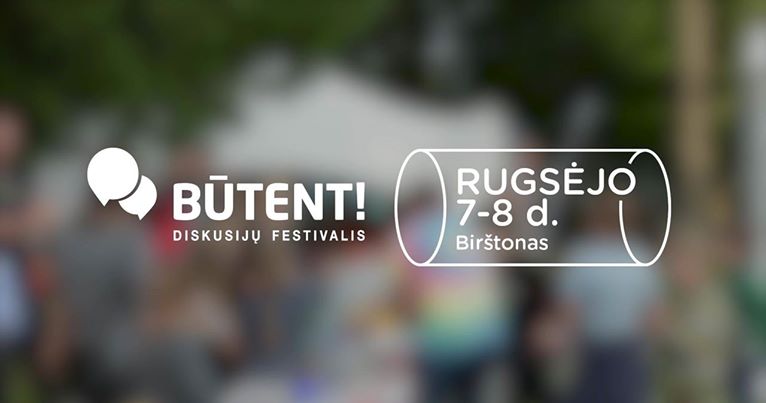 This year, The European Foundation of Human Rights (EFHR) decided to take part in the "Būtent" Discussion Festival for the second time. The festival, which aims to promote a discussion and listening culture, will take place on Birsztan on 7th and 8th September.
"Lithuanian language – an overpowered idol or live instrument?" – this is the topic that EFHR proposes to discuss during the festival. The Parliament of the Republic of Lithuania registered a draft constitutional law on the state language, which regulates the status of the Lithuanian language more broadly. In the meantime, in the public zone the possibility of approving the languages of national minorities as an auxiliary in some areas is discussed, and the Lithuanian Language Inspectorate solved as an unnecessary institution. During the discussion an attempt will be made to answer the question whether the Lithuanian language is an overpowered god or a living instrument? Does the language have to be strengthened, but is it worth abandoning its excessive protection?
The discussion will be attended by: Audrys Antanaitis, Chairman of the State Lithuanian Language Commission, awarded in 2017 with the medal "Už nuopelnus žurnalistikai" (Accounts for journalism), Rajmund Klonowski, translator and journalist of " Vilnius Courier ", Mark Adam Harold, immigrant from Great Britain, who was the first non-Lithuanian citizen elected to the Vilnius City Council and Vytautas Sinica, a graduate of The Institute of International Relations and Political Science of The Vilnius University and PhD student of philosophy Ewelina Dobrowolska – EFHR lawyer and representative of Applicants for the original spelling of names and surnames and human rights.
It is expected that during the discussion it will be possible to hear different opinions, and all those interested in the topic of the Lithuanian language are warmly invited to take part in the discussion.