EFHR Invites to Discuss Stereotypes at Discussion Festival "Būtent"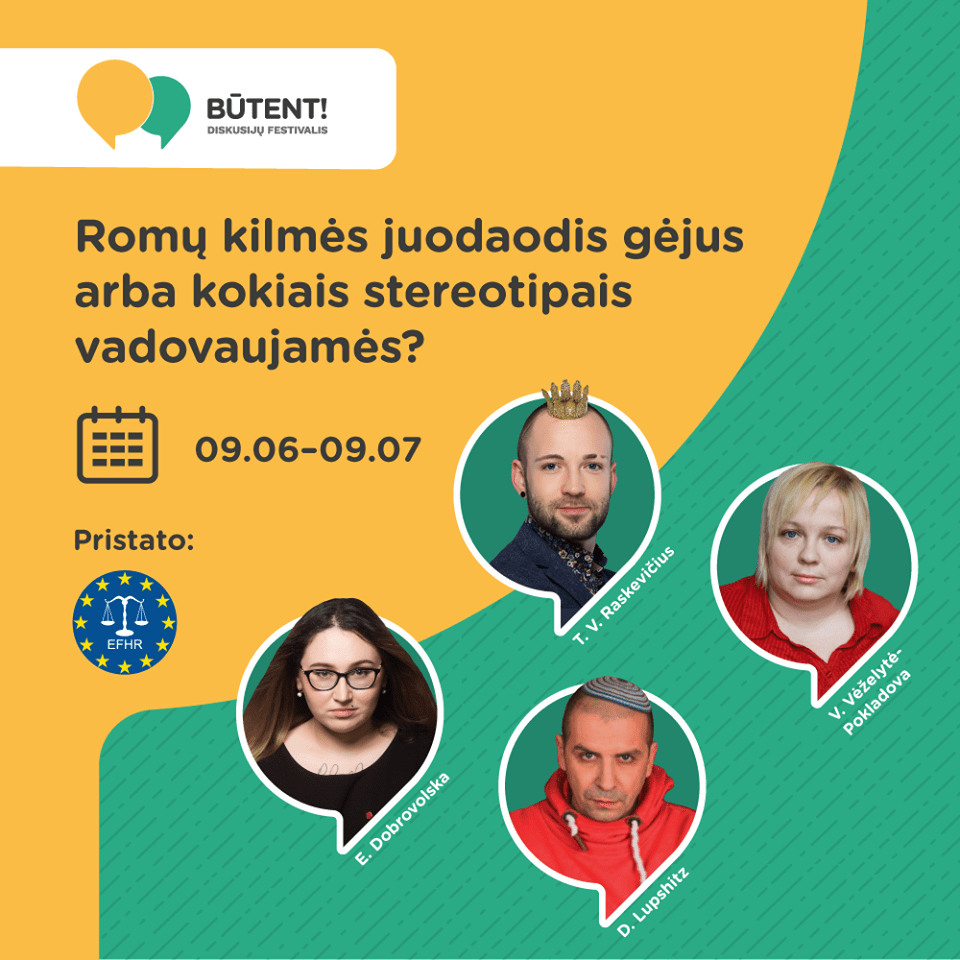 The discussion festival "Būtent" (English: "Exactly") held in Vytautas Park, Birštonas on 6th-7th September 2019 is a free discussion event for people who seek not only entertainment but also content. This year, the festival will hold over 100 different events with more than 300 presenters from business, academic, political, non-governmental organisations (NGOs) and cultural sectors. The main discussions of the festival will take place in ten different zones, and the organisers estimate that around 8,000 visitors will come to the festival this year.
Like last year, the European Foundation of Human Rights (EFHR) will also hold a discussion during the event. 6th of September at 6:30 PM in the "Ateities Lietuva" (English: Future Lithuania) zone EFHR will invite participants to discuss the topic: "A black gay of Roma origin or, what stereotypes do we follow?". Debaters:
Moderator Evelina Dobrovolska – lawyer cooperating with EFHR and other NGOs. She represents her clients in court in cases regarding hate crime, gender reassignment, human rights and original spelling of personal names;
Daniel Lupshitz – an active member of the Jewish community, former advisor to the mayor of Vilnius, a public figure;
Tomas Vytautas Raskevičius – lawyer, political scientist, LGBT+ and human rights activist, elected to the Vilnius city municipal council as a first politician to be openly 'out';
Vaiva Vėželytė-Pokladova – head of the Policy Analysis and Information division of the Department of National Minorities under the Government of the Republic of Lithuania. She has been working in the field of national minorities since 2010. Before, she worked with Lithuanians living abroad in the former Department of National Minorities for 5 years.
Just like last year, the audience will be invited to take an active part of the discussion and ask their questions using the online platform sli.do. We also encourage everyone to download the event mobile app which allows to create an individual program and rate the discussions in an easy and convenient way. You can download the app in "App Store" and "Google Play".
Therefore, we encourage you to mark the 6th of September 6:30 PM in your calendars and come see us at the discussion festival "Būtent" in Birštonas! EFHR lawyers will participate in the event both days – those who want to receive free legal advice on questions about discrimination, hate crimes or human and national minorities can feel free to approach us during the festival.