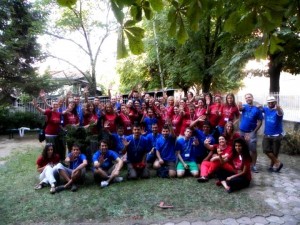 The European Foundation of Human Rights (EFHR) had an honour to participate in the 32nd International Youth Convention in Macedonia organised by Youth for Exchange and Understanding International (YEU), a European level non – governmental Youth organisation, and hosted by the Centre for Intercultural Dialogue (CID).
It is a well – known fact that the role of social networking in young people`s daily life become vital since many social interactions take place on Twitter and Facebook replacing real face to face interaction. Unfortunately, even in this virtual life hate speech and discrimination do exist.
The key idea behind that Convention was to empower participants to fight exclusion in the cyber space and, most importantly, to take proactive role and use the potentials of internet and social media to reach discriminated and excluded young people. The activities carried out during the project were based on non – formal education methods and intercultural learning.
The organisers of the event included a lot of  challenging and funny activities which encouraged participants to express their creativity and share experience and ideas. Particularly, a competition between countries on the theme of human rights violations On-line caused a great interest. The representatives of  EFHR, Evelina Baliko and Viktoria Kvilitaja, made a presentation about the situation in Lithuania covering the cases that EFHR deals or dealt with. Due to a deep knowledge on this topic and ability to interact with spectators, this team was one of the winners of the competition. This activity was a great learning session as all participants shared opinions and personal experience regarding social exclusion, discrimination and Hate speech in different countries around Europe.
Despite fatigue due to a busy schedule and lots of activities, the outcomes of the Convention are great. Each participant took part in a creation of Online Booklet on Human rights, Hate Speech, freedom of speech, internet privacy and social inclusion that will be available for everyone interested in these topics after being approved by Council of Europe. The importance of this work is significant as it provides online platform to share good practices and create strategies to combat discrimination and racism on European level.
Moreover, all the participants had an opportunity to attend National Conference on No Hate Speech On-line in Skopje. One of the speakers was Ludo Keizer who is an expert on youth participation, online media and communication and a well – known moderator and advisor for international conferences. During his speech he shared experience and knowledge about hate speech online, how in particular it affects young people, talked about examples of good practices and the ways to raise awareness among young generation. It was a pleasure and honour to attend this event as that was an opportunity to meet people who are of the same mind about the problem of Hate speech On – Line.
During the Convention Evelina and Viktoria got to know people who share the same ideas and goals, who are willing to cooperate and exchange valuable experience in the field of human rights and social inclusion. The EFHR etablished linkes with Lithuanian representatives of Youth Exchange and Understanding to work together on the follow up activities.
The EFHR expresses its gratitude to the organisors of the event for inviting to the Convention and hopes to become partners once again in future projects.