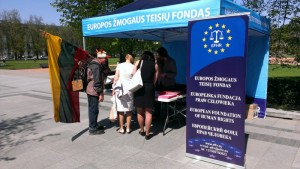 Within the framework of a campaign of trips to cities and towns in the Vilnius Region, which is organised by the European Foundation for Human Rights and will take place between 21 and 31 August 2013, EFHR's employees will represent the Foundation in the following cities:
21st August:
Nemenčinė, 12 pm- 4 pm
22nd August:
Trakai, 12 pm – 4 pm
23rd August:
Rudamina, 10 am – 2 pm;
Šumskas (Caholic Youth Days- Katolickie Dni Młodzieży) 5 pm- 10 pm
25th August:
Šalčininkai ("Lato Młodzieży" (Youth's Summer) Concert), 5 pm – 10 pm
27th August:
Lentvaris, 2 pm- 5pm
28th August:
Juodšiliai 1 pm- 3 pm;
Jašiūnai, 4 pm – 6 pm
29th August:
Pabradė, 1 pm – 4 pm
30th August:
Mickūnai, 2 pm – 4 pm;
Lavoriškių, 5 pm – 6 pm
31st August:
The Town Hall Square, Vilnius, 3 pm – 7 pm
We invite you to visit the mobile EFHR center in the times and places listed above. Everyone will have a chance to get free legal help, information materials and to become acquainted with our work in detail. We also encourage you to look for EFHR's stand during other cultural events, where contests and awards await you!
EFHR