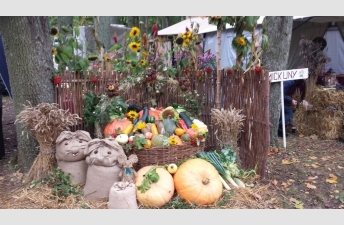 On September 28, Pikeliškės held the 18th harvest festival of Vilnius District Municipality. Therefore, the European Foundation of Human Rights (EFHR) organized a trip to Pikeliškės next to the former residence of Marshal Józef Piłsudski to celebrate this holiday and introduce the inhabitants of Pikeliškės to its activity.
The very next day (29th of September), in the House of Polish Culture in Vilnius , the Foundation took part in an unusual jubilee party – 25 years of units of the Association of Poles in Lithuania that were created between 1988-1990.
During festivals and events the EFHR stand attracted plenty of interested people, among whom were both residents of Vilnius and Pikeliškės as well as guests taking part in it. The foundation representatives met and had a brief conversation with Mr. A. Lapinskas who critically looks at the Polish-Lithuanian situation. During the conversation the issues of the Polish minority in Lithuania and problems of both nations were raised. Together we came to conclusion that there should not be any conflicts that exsist nowadays. Definitely they do not contribute to the development of the international relations, what results in negative consequences for both sides.
The EFHR as always provided with free informational materials (brochures, leaflets, gadgets, etc.), which immediately aroused a great interest among the passers-by. Eagers had the opportunity to get legal advice from lawyers of EFHR. I was glad that many people have heard about us before and they were very pleased with the presence of EFHR.
Also a few guests from abroad were interested in EFHR stand, what resulted in a discussion about the activities of EFHR on human rights and the rights of national minorities in Lithuania and Europe. EFHR workers told about its activities, ways of helping people, won cases and cooperation with other organizations in the field of human rights. Guests had the opportunity to compare EFHR activity with similar organisations in the field of human rights in their countries.
All participants were encouraged by EFHR to be interested in rights that they have by being a member of the EU, human rights and EFHR activity on the website www.efhr.eu, where plenty of valuable information about both human rights and the structure of the EU and its institutions are available. During two past events, foundation representatives spoke to young people, children as well as elderly persons.
The EFHR enjoys the interest and activity of participants. Thank you all for the involvement and interesting discussions and we do encourage you to keep track of the information on the website www.efhr.eu
EFHR
Translated by Sara Howicka within the framework of a traineeship programme of the European Foundation of Human Rights, www.efhr.eu.