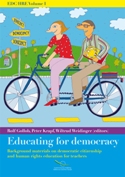 European Foundation of Human Rights is pleased to invite you to read the new Council of Europe booklet in the series "Learning and Living Democracy". These are not the first Council of Europe educational materials to explain the subject of human rights and democracy, including the key role of teachers in bringing about the subject.
A new series of educational materials has been prepared as an aid for teachers to share knowledge about democracy and the ensuing rights and obligations available to the youngest citizens.
Each instruction pack prepared in english is adjusted to the age of the students and different levels of education – primary and high schools. The topics are related to teaching children about the rights of a child, growing up in democratical system, living and participating in democracy. The booklets provide a valuable educational help and assistance, as they contain both theoretical and practical information, together with guidelines and a description of the exemplary course of a lesson.
Series "Learnig and Living Democracy"contain booklets:
"Educating for Democracy"
"Growing Up In Democracy"
"Living in Democracy"
"Taking Part in Democracy"
"Exploring Children's Rights"
"Teaching Democracy"
On the Council of Europe  request European Foundation of Human Rights has also prepared Polish and Lithuanian version of educational booklets titled: "47 countries and one organization … Council of Europe". Educational pack prepared for children may also be a valuable aid for teachers who want to give the students knowledge about the world around them.
Further support and information source can also be Polish and Lithuanian version of the educational booklet entitled "Rights and Freedoms in practice", prepared on Council of Europe request. The booklet provides information on the European Convention on Human Rights and the functioning of the European Court of Human Rights.
All of these booklets are available at: http://en.efhr.eu/council-of-europe-education-pack/
EFHR