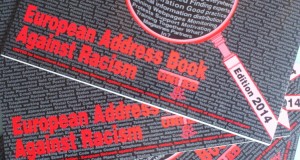 The international network of non-governmental organizations "UNITED for Intercultural action" published another address book that includes a list of non-governmental organizations from the whole of Europe. These organizations fight against intolerance, racism and nationalism and support national and ethnic minorities, as well as migrants and refugees.
 The "European Address Book Against Racism" contains the contact details of more than 2,400 organizations in Europe. These organizations were chosen by special criteria, among other things the extent of organized actions against discrimination by every organization in a region was taken into account. The aim of the publication is to promote  anti-discrimination action in Europe and to facilitate cooperation between non-governmental organizations that support tolerance.
The EFHR workers and volunteers have taken part in workshops and conferences organized by "UNITED" many times (http://en.efhr.eu/2013/11/07/efhr-for-the-third-time-participated-in-a-conference-organised-by-united/). In the EFHR office, promotional material (stickers, brochures and posters) is available. These were made available by "UNITED."
More about the activity of "UNITED" can be read in English on the website: http://www.unitedagainstracism.org/blog/2014/01/08/2014-address-book/. There are also contact details for non-governmental organizations from the whole of Europe available there.