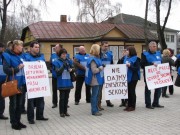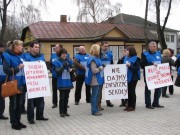 The European Foundation of Human Rights (EFHR) is glad to report on another court case victory thanks to legal aid provided by the foundation in the preparation of a defense claim. The case concerned a member of the representational committee of the Secondary School in Trakai who had allegedly violated Lithuanian administrative law by organizing a picket against plans to reorganize the internal structure of the school on April 3 2014.
The case was taken to court because of the violation of administrative law. G.S., a member of the representational committee of the school, was included in the administrative law violation protocol pursuant to Art. 188.1. of the Code of Administrative Violations of Law of the Republic of Lithuania. The decision was explained as a result of his lack of the necessary permit to organize the protest in which about 40-50 people had participated.
However, the defendant argued that the group of picketers that he had organized included only 15 individuals who had been easily distinguished from other people present by their blue clothing. Furthermore, the mayor of Trakai District Municipality received written notification of the meeting on April 2 2014. Also, pursuant to Art. 6.1. of the Law on Meetings of the Republic of Lithuania, a meeting of up to 15 individuals does not require a permit from a local government. Moreover, it is worth pointing out that the picket was organized in front of the local government office where at the same time a meeting of the local government council of the Trakai District Municipality was held; since the members of the council were deciding the fate not only of the Secondary School in Trakai, but of other schools in the district as well, meaning that some people who gathered in front of the office were not individuals directly involved with the picket organized by G.S.
Trakai District Court concurred that no permit had been needed and admitted that the pictures included in the case file show a group of individuals wearing blue clothing, along with other people nearby holding posters. About 40-50 people may have gathered in front of the office but there is no proof they were involved with the picket. Due to lack of evidence that would corroborate the allegations against G.S., the case was dismissed. The judgment may be appealed against within 20 days.
EFHR is glad to once again have been able to help the Polish community and encourages everyone whose rights have been violated to contact the Foundation for free legal aid.
If you want to read about the successfully prevented changes in the internal structure of the Secondary School in Trakai, click here.
EFHR