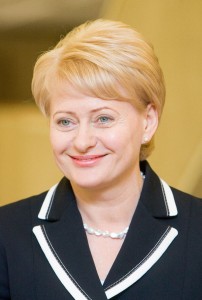 The recent events that occurred in Lithuania prove how much the country is afraid of its national minorities. The issue of spelling names and surnames in passports of citizens of the European Union still has not been solved, similarly to the issue of bilingual signs, which was removed from the draft Law on National Minorities on July 17, 2014. What is more, the draft itself was removed from the Seimas' agenda multiple times. Further, the President of Lithuania seems intent on adding fuel to the fire.
At her meeting with ambassadors of Lithuania, the President expressed her opinion on bilingual street names and on spelling names and surnames; she believes that since Lithuania is a small country, it has to protect its language and culture. It seems that she forgets that one can do it in a way that would protect the rights and interests of all citizens of Lithuania, including its national minorities.
The European Foundation of Human Rights (EFHR) would like to point out that Lithuania is a member state of the Council of Europe. To join it, one has to respect parliamentary democracy and meet the requirements regarding the protection of human rights. As a member state, Lithuania ratified the Framework Convention for the Protection of National Minorities, which means that it pledged to protect its national minorities.
As we have already noted, the President believes that no European organization investigating accusations of discrimination against national minorities has proved that Lithuania has broken any international law, including the Framework Convention for the Protection of National Minorities. However, this is not true.
The President confuses Lithuania's international obligations with its obligations towards its citizens, once again incurring international criticism. EFHR agrees that every nation should protect its language and culture, but such protection should not endanger the citizens of other nationalities; one can learn much about the state of democracy in a country by looking at how the majority treats the minority.
The problem lies not in the relationship with Poland, which insists on solving the long-lasting matters, but in Lithuania's obligations, which seem to be totally forgotten. Lithuania would not be continually pushed to respect national minorities' rights if it remembered its obligations that were established in the bilateral treaties.
It seems that the President is a believer in old-fashioned patriotism, but this is a stance that pushes Lithuanians to emigrate. When fulfilling Lithuania's obligations, good will and mutual understanding would certainly change the current climate and unite Lithuanian society, including politicians, who adopt legal acts on behalf of society and with society's trust. That is why these acts should meet the citizens' expectations.
EFHR hopes for the President to defend the rights and interests of the whole of Lithuanian society, 16% of which are members of national minorities, which would lead to a higher level of protection for national minorities in Lithuania.
EFHR