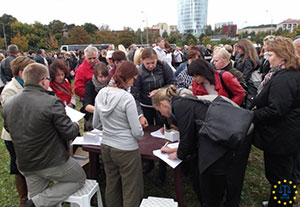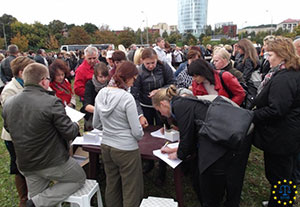 On 10th November the Strategic Planning Committee of the Government of Lithuania discussed the idea of creating a Department of National Minorities. They have decided that this government department will begin working from July 2015.
The European Foundation of Human Rights (EFHR) supports this idea, especially as it is compatible with what the Council of Europe has already suggested. The Council criticized Lithuania for dissolving its Department of National Minorities in 2009 and handing over its responsibilities to ministers. The Ministry of Culture of the Republic of Lithuania and the Ministry of Education and Science of the Republic of Lithuania were not able to take on the responsibilities of this dissolved department fully. The Committee of Ministers of the Council of Europe pointed to a lack of respect for national minorities, especially in the fields of education, funding and consulting.
EFHR reminds all that this is not the first time attention has been drawn to the issue of national minorities, and with national minorities constituting 16% of the people of Lithuania, this is an issue that should not be downgraded whatsoever. Lithuania, supporting the Framework Convention for the Protection of National Minorities, has to face up to its responsibilities. What is more, its actions should be supervised by an institution with adequate status.
EFHR hopes that the Department of National Minorities will face the challenge – that it will cooperate with national minorities, shape ethnic politics and carry out the necessary research. EFHR wants to believe that the Department will see the existing problems and that it will do anything it can to solve these, as one of its responsibilities will be to cooperate not only with national organizations and institutions but also with foreign organizations and diplomatic posts. EFHR believes that thanks to this cooperation the Government of Lithuania will pay attention to other suggestions of international organizations which point to other kinds of infringements of the rights of national minorities in Lithuania.
The goal of the department should be to introduce the Framework Convention for the Protection of National Minorities and to ensure different nationalities peacefully coexist without the loss of national identities.
It should be remembered that in 2000 Lithuania ratified the Framework Convention for the Protection of National Minorities without any objections but following that it allowed the only act protecting national minorities to expire. As a consequence, Lithuania do not have any laws protecting the rights of national minorities and national minorities are not able to exercise the rights provided under international law.
EFHR